Silverburn - Self Induced Transcendental Annihilation
06 Aug 2023 - Thorsten
Prog-Metal | Metalcore | MSH Music Group | Release date: 11 Aug 2023 | Favorite song: Painbody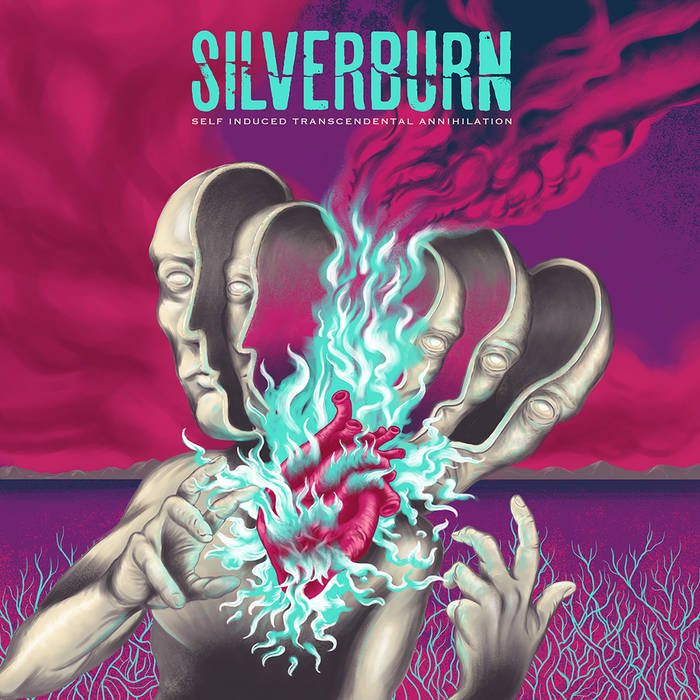 Okay, let's play a little game for all of you out there, who are not from Wales: You have 5 seconds to name 5 bands from Wales: Five. Four. Three. Two. One. Did you get five? I figure many of you might have some of these: Funeral for a Friend, Manic Street Preachers, Feeder, Young Marble Giants, Gorky's Zygotic Mynci, McLusky, Taint. Wait? You got Taint? Then this review is just for you! You haven't got Taint on your list? Then this review is exactly for you!
As hard as it is to quickly come up with five Welsh bands as such, also because most of the band from the land of the unspeakable place names do not sing in Welsh, there are a few that one knows but doesn't associate with Wales. Taint was surely one of these, hailing from Swansea and making music without any identifiable Welsh color, their sound was pretty international and it was a shame when they called it quits in 2010. The band leader Jimbob Isaac then went on to form Hark, another one of these gem-bands that simply not enough people followed on their way through progressive, heavy Sludge sounds. Hark also disbanded a few years ago and now Jimbob has a new band – Silverburn who are just on the brink of releasing their debut full-length Self Induced Transcendental Annihilation which walks in the steps of the former two bands combining progressive Metalcore elements with Sludge and Stoner. Jimbob wrote and recorded the record alone and now the band is a live trio, preparing for their shows in August (ArcTanGent among them).
However, there is a little bit more noise in the songs by Silverburn, so one can clearly notice a different approach to songwriting. One might go so far as to say that there is a certain "HydraHead"-edness vibing through the riffs and structures, especially if we associate the HH-sound not only with bands like Knut, Botch or Converge (Silverburn only has tinges of their math-structures) but also with bands like Today is the Day, Pelican and Big Business. Not as much ISIS (yes, they did release one demo through HH!) but more Zozobra. Especially the latter and its somewhat Heavy Metal / Stoner Rock qualities imprint their mark on Jimbob's new eight songs with 31 minutes running time.
The sludginess shines through with all its pretty Doomy face (mark the missing coma in that sentence!) on several of the track and "VITA" might be one of the best examples for it. The ending gives you some chopped, rectangular short guitar licks amid the very crunchy, very heavy Stoner outro. On the other hand is the intro to the next track, "PAINBODY" garnished with some perfect Prog-Core tinges attached to the riffs, so that you basically get two genres for the price of one. Here Jimbob closes in on bands like Fall of Troy and their ability to give us double-face bastards with one side of their riffs being the shiny Prog-side and the other side being the dirty Stoner-Metal side. I think, Jimbob has taken a lot from the aforementioned latter HH-bands and he adds his own flavor onto it, taking full artistic control for this release, as he also provided the record cover, which also shows the flames the hero of the record has to go through in order to end his journey. Oh wait, have I not mentioned that only writing songs, painting the (digital) cover and getting the band together for touring seems not to be enough for Jimbob to handle? No, actually, he had enough time to come up with a whole over-arching concept for the record – the man either doesn't sleep or is just one of these too-organized-to-be-true- characters out there that always stir my envy. However, when listening to the new record, its strong riffs, its tinges of modern progressive Metal(core), the powerful vocals and everything in between – in short when listening to Silverburn's debut, the envy is tidal waved by how great the record sounds and how well-arranged the songs are! Strong debut from a Welsh band that you should now add to your mental list!