Pylar - L​í​myte
07 Aug 2023 - Thorsten
Doom | Noise | Cavsas | Release date: 23 Jun 2023 | Favorite song: Límyte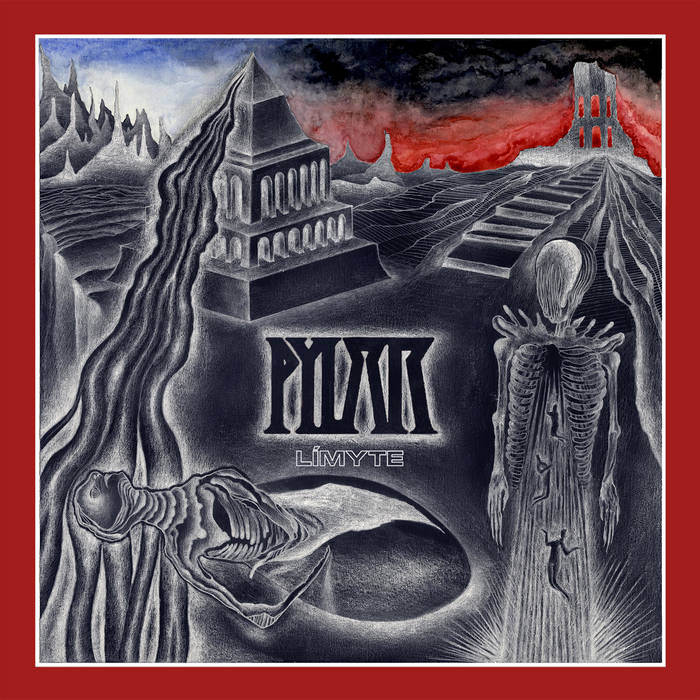 Admittedly I am a sucker for such sounds. Somewhat metallic, obviously ritualistic and surely intense – and this concoction can be found across many genres. Pylar from Seville in Southern Spain have a knack for coming up with music like that and they prove it on their new record Límyte - the first thirty seconds already show that. It becomes clear that this is music for those moments, when we are alone (not lonely, alone!), have some time (minimum 38 minutes) and are able to drop out (with/without any help). "Enjoy"
Límyte is Pylar's seventh full-length and also the end of a trilogy also including 2019's Horror Cósmyco and 2022's Abysmos (our review here) and their connection is also visible in the covers as all three feature dark reds and bright grays and blacks with the gray elements becoming less prominent and the reds taking up more space with every record. Furthermore, it also seems to me as if there is one element on each cover which is an abstract version of an Andalusian monument or sight, this however could be an over-interpretation on my part.
Límyte now feels like the lament of a society after a terminal event, whichever it could be – the impact of a meteor, the final storm of a city after years of being besieged, the advent of a dominant, non-accepting new religion. It sounds like the mourning of a thousand voices with the main vocal line possible being a leader of sorts for the group of survivors who now have to adjust to having crossed certain boundaries, certain limits (remember the record title!). This lamenting nature becomes clear within the first few minutes of the opening title track as the voices are gathering, the instruments are giving us a certain unordered cacophony (which still sounds highly in tune with "the surroundings", to which we will come in a moment) and everything is more or less leading us into the labyrinth from which there is no seeming escape. The instrumentation of the record is also very interesting as it adds French horn, violin and mandolin to the more regular ones. All of them combined make for a sound somewhere between Heilung and Osi and the Jupiter. Very moody, very honest, very earthy in all the "post-apocalyptic" glory. Even when there are clear disruptions and eruptions, especially the beginning of the third track "Ruptura-afuera", this doesn't sound like an add-on, it's still part of the ritualistic lament, an incantation for something soothing, something healing.
Interestingly, the record does have a second level and that is the layer provided by Teitanblood member CG Santos who added some hurdy-gurdy-sounds and modular synths to Límyte both of which float above the "songs" themselves so that is a certain kind of friction between both lines which create for a lot of miraculous psych-elements so that this way the comparison between Oranssi Pazuzu's Waste of Space Orchestra collaboration and The Ruins of Beverast – a highly psychedelic-infused, mind-bending kind of thing. The way that the final track swings back from a seeming fade-out into another round of full assault is one of the most intense experiences of this summer full of awesome music (don't we all need that in a summer full of catastrophic weather twists and turns?)
This second layer turns the already awesome songs into songs of gargantuan proportions - it embellishes and adorns the songs in just the right places so that the grow beyond their original concept. The trilogy has come to an end that is exceeding expectations and shows what is possible in ritualistic music in 2023. It can provide catharsis through friction!