car crash weather - Terra Nostra
30 Jul 2023 - Daria
Post-Rock | Post-Metal | | Release date: 22 Apr 2023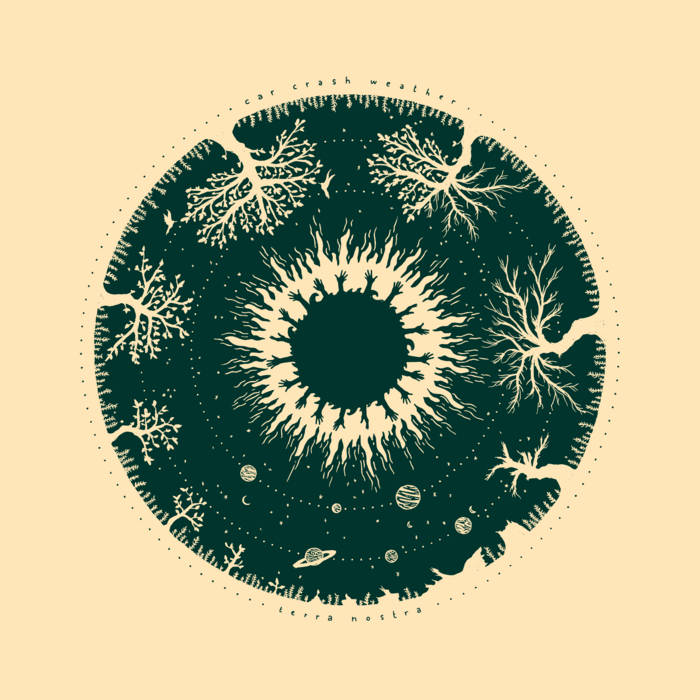 Do you know that feeling when something feels extremely right in that moment but you don't trust your gut and then – inevitably – you come across that thing again and realize that your encounter was meant to be all along? That's what happened between me and car crash weather's new album Terra Nostra.
I listened to it some time ago and decided to give it a shot for a review but then I post-poned that task. When I came back to this record last week and I dived into it, searched for infos (the band has a really nice website where they explain their work) and realized that this meeting was meant to be. So brace yourselves because this one is a little bit though.
car crash weather is a Post-Rock band from Switzerland, their name already rang something in me because on the one side it is the thing that I fear a lot while driving, but on the other (as the band says) reminds me of that rainy, windy or icy weather. The kind of weather that makes you stay at home because driving is not safe. Strangely, that one is one of my favourite weather (while staying at home, of course).
Terra Nostra was released last April and it's the second full-length from the band. On this record they fully commit themselves to important topics such as migration, the relationship among people and between mankind and our Earth (Terra Nostra literally means "our Earth" in Italian [and Latin, note of the editor]), war and climate change. Not such positive themes during these times but all very present lately, and it happens that I care a lot about them, that's another point that got me interested in this record.
It starts all with "On The Back Of Zeus" and its somber opening. This track takes up from where the last album left off, the migration theme. In particular, the band refers to the events of Captain Carola Rackete and Sea Watch 3 on this track. Considering that I'm from Italy and I remember those days well, I fully understood the statement of this song. The bonus parts are the spoken word passages at the end of the track: you can hear journalists talking about the arrest of Rackete and the decision of the former Minister of the Interior Matteo Salvini to close the ports and the consequences of his decision. It's a very touching track for there shouldn't be events like this one where people lost their lives because of the people who govern us.
Another track that touched me personally is the third one, "Dominion" where "the spoken part is an excerpt from Ukrainian President Volodymyr Zelensky's address to the Russian public and to his opponent Vladimir Putin on February 24, 2022, the day of the Russian attack on the country. He said: "Who will suffer the most? The people. Who wants it the least? The people. Who can stop it? The people." (from the bands website). car crash weather state that this sentence sums up the concept of their album, and I think that it is pretty clear where they stand. I really like the political approach in the writing of this record. It is simple, because we're listening to instrumental Post-Rock and so we don't have any lyrics to analyze, but at the same time, once you dived into the concept, it is very touching and it awakens a healthy disdain about all these bad things that happen in our world.
The music itself emanates various emotions, we have the hard parts with strong riffs and softer parts, it's like a continuous battle between us, a better world and the bad things that happen without giving us any way to beat them, not alone at least. I really like the music's dynamic in this record, I would love to see car crash weather live, I think that this is one of those bands that can deliver the right message.
This time I will end on a more bitter note. The last three tracks ("Magna Mater I-III") are united by the same theme: our relationship with our planet and how nature will follow its path either way, with or without us. Again, a theme that gets to me on a very personal level since this summer here in Italy we have been experiencing a lot of radical atmospheric events, so the general public is talking a lot about climate change, eco-anxiety, what kind of future awaits us. Obviously I care a lot about this but at the same time I feel powerless, I am distressed; we're ruining our own future and it seems like nobody cares.
These are all topics that car crash weather touched on in the last three songs of Terra Nostra, a beautiful record that is also actively committed to present causes. That's why I'm so glad to have encountered it on my personal path. If you're into instrumental Post-Rock and socially important concepts and themes, this is one for your ears!