Mutoid Man - Mutants
29 Jul 2023 - Thorsten
Heavy Punk | Hardcore | Sargent House | Release date: 28 Jul 2023 | Favorite song: Siren Song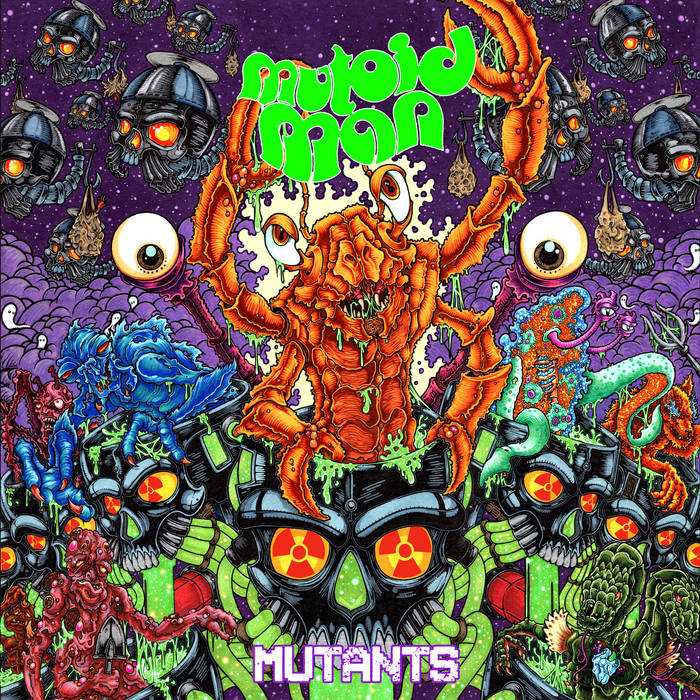 There is a thin red line, a razor's edge, a quantum-level difference between humor in music and silliness, between self-depreciation and fun. Mutoid Man is a band which certainly likes humor in music and the band is surely a fun activity for all its members but at the same time they surely take their music seriously and do not take it for granted that other people listen to their records – like the new one Mutants!
The new record is the first one in a few years and Stephen has made clear in our interview that there were several reasons for that and the pandemic is only one of them. Another one is also simply the fact that all band members, Stephen Brodsky, Ben Koller and Jeff Matz, are each in so many projects that it is simply hard to find a time slot in which they all can participate in any Mutoid Man stuff. Interestingly they are able to keep most of the soundscapes from their other bands out of MM, which is really important for the independence of its sounds.
The latter is a boiling concoction of "classic" Heavy Metal of the 70s and 80s in the style of Thin Lizzy and their dueling guitars, Eddie Van Halen's one-man-six-string-army and some of the more punkish moments of Iron Maiden. When looking at this collection of artists it becomes clear that Mutoid Man is not in any way lacking virtuosity or musical ambition – it's just not their main idea to chase Montreux Jazz Festival but rather Graspop Festival – where their mix of Hardcore and Heavy Metal roots would also surely be much more appreciated. When the opening track "Call of the Void" sets in, sorry, kicks in, one's ears are being run over by the cascading riffs and hooks. Pure Phil Lynott-worship as it always sounds as if there are two separate guitars trying to outrun each other, even though we know that there's only one guitar player in Mutoid Man. Combine that extraordinary guitar work with the highly effective gang shouts and you have a high-energy opener for the ages.
Of course, a record must have a bit of a variety in terms of tempi and elaboration. Sometimes the songs shift quite abruptly but not disjointedly from one genre to the next. "Siren Song" starts out like a Stoner Rock elegy mixed with some 70s power-chord passages. Then the track picks up a lot of speed steadily and finally ends like a shifty Punk or Hardcore-jam. All of that in one track screams for a drummer who can push all of that and fill it with as much power as necessary but without over-steering it in any way. Who could be better for that assignment than Ben Koller, who is one of those miraculous drummers who seem to be able deliver every kind of song, genre or sound. The shuffles he procures on Mutants are pure magic, just listen to "Demons" - total 80s Metal goodness! That Stephen Brodsky is one of the most powerful vocalists of our time and that Jeff Matz and his work in High on Fire is mighty underrated should not be forgotten.
Sometimes some of their main projects shimmer through, like some of the more atmospheric Cave-In parts on "Setting Sun" which would also have been totally in place on "Until Your Heart Stops" (its beginning) or "Antenna" (the ending of the track). However do not mistake Mutoid Man for a pro-longed version of any band the guys are in, this band is legit and self-sufficient and everyone is in it for the fun of it. Cool!