Eremit - Wearer of Numerous Forms
11 Jun 2023 - Martin
Death Doom | Sludge | Fucking Kill Records | Release date: 06 Jun 2023 | Favorite song: Passages of Poor Light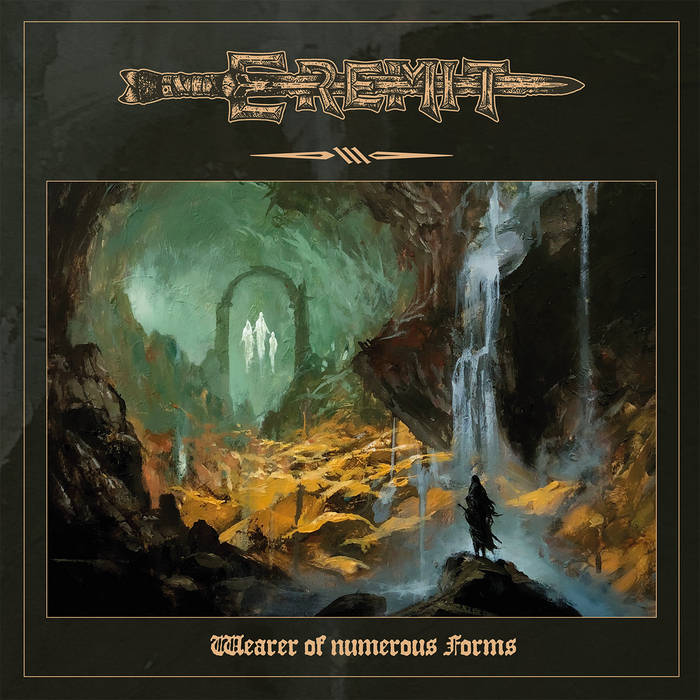 Free yourself from the shackles of everyday life! Adventure, mythology, unknown dangers and never seen before landscapes are waiting for you. It doesn´t need much, but it comes with a cost. Or should I say an investment, that will immensely pay off, if you are going all for it. You just need a bit of time, a good pair of headphones and Eremit´s massive 2cd/4LP Wearer of Numerous Forms. Turn on, tune in, drop out. On to the Penthrem Ya-Wa!
Our world is becoming increasingly demystified and some people crave finding new mysteries to explore. So many of the things we do every day are the same old duties, same old work, same old chores - so we look for something new and exciting. Fantasy gives an outlet for the creative part of the brain without straying too far from real life. Through adventure and action, fantasy provides intense emotional experiences (suspense, excitement, surprise, astonishment, awe, compassion, anger, etc). It is not only a way of escapism, but in fact a roundabout way of engaging with genuine problems. And while engaging with the by far largest body of work yet by German Extreme Doomsters Eremit (German for "hermit"), you will have the chance to experience all of this in spades in form of the doomiest and sludgiest riff-o-rama possible.
It is the conclusion of a trilogy cycle that started with their debut album Carrier of Weight in 2019. Across two full-length albums (besides the debut also Bearer of Many Names from 2021) and an EP (Desert of Ghouls) they had already built up a mythological story of a hermit trapped on a seemingly endless ocean called the "Weltenmeer" ("World of Sea" in German), where each song represented a single chapter of his monumental journey and lead him onto the terrestrial cylinder jacket (!) Haal-in-amarf. Now Wearer of Numerous Forms is taking the listener along the three final chapters of this saga.
To get the full experience out of this album, you have to engage, invest time and immerse yourself into a new world. But for everyone, who has read or watched The Lord of the Rings or other fantasy-related stories, this shouldn´t be of any surprise or challenge. With these concluding chapters you get three tracks and 133 minutes of trance-inducing, massive Sludge and Doom with heavily fuzzed riffs, deathly growls, blackened nuances and a fantastic, layer-adding trumpet. The album makes its point clear from the get go, places it on your forehead and drives it through your front lobe until you´re only able to nod your head to the sludgy groove, through time and space and at the end somewhere in Ya-Wa besides Umno the Hermit.
Impressively enough, this band from Osnabrück/Germany (formed in 2015, now a four-piece with trumpetist Hendrik 'Brede' Bredemann added) has recorded "this world in a world" live and in only five days!
I could dissect the album more in detail and tell you how the first track "Conflicting Aspects of Reality" is pummeling you into oblivion in entertaining 64 minutes, including Drone and Ambient parts. How it feels to be "Entombed" in 21,5 minutes, while transitioning from Sludge to Funeral Doom to Drone. Or about the wide range of dynamics on the third and last track "Passages of Poor Light": 47 minutes of calmness and frenzy. Additionally I could recommend this album/band for fans of Conan, Bell Witch, Mizmor, Monolord, Jupiterian, Lurk, 71TONMAN and Primitive Man. But in the end, the music must speak for itself here. There is a new world within your reach. I recommend you to take Eremit´s hand. Take your time. You will be astonished, in awe and have other intense emotional experiences. Just turn on, tune in…