Cicada the Burrower - Blight Witch Regalia
10 Jun 2023 - Thorsten
Synthwave | Coldwave | Blue Bedroom Records | Release date: 07 Apr 2023 | Favorite song: Aries, you Ripped the Child Right Out of Me
What must Black Metallers' lives feel like when surrounded by nothing but happiness? How can they partake in something like joy? How would they feel on the beach with all that Holly Golightly-happiness shining out of everybody's buttocks and them being the only ones not feeling all that radiant rabid glow? What to listen to? Well, at least the latter is now being answered with the help of Cicada The Burrower's latest record Blight Witch Regalia!
Back in 2009 there was a video that I could remember a few days ago and it sprung to my mind because it fits Cam Davis' newest record to the t. Jogger released their video for "Nephicide" featuring two Black Metal teenagers trying to get through life by pissing off their parents and – in return – being pissed off by everything normal or happy or, worst, both. Just look at them!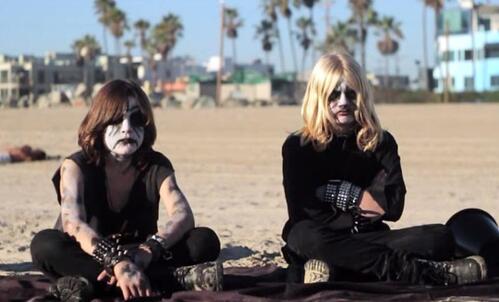 Now Blight Witch Regalia is a wonderful remedy for those suffering from surrounding over-euphoria because it serves both ends – the miserable and the beaming ones. When the title track opens up with a nice shifty nearly two-steppy beat, some synth-generated horn instruments (trumpets?) and some nice radiant sonical spheres it will please all those who loved the kind of yacht-rock that Manilow is known for. However, after 50 seconds the vocals kick in and this is the part that the brooding ones will love because it is pure Black Metal (or in this case rather Dungeon Synth) – brilliance. From then on the track alternates both elements very well perfectly using the synth-beats to move from one element to the next.
This dichotomy between brightly brilliant and nullifying negativity is also upheld with many other tracks, but let's choose the second one, "Herald of Lions" as a further example: here the glitchy goodiness is a bit more in the background while the foreground is dominated by near drum'n'bass-like beats toppling each other. The way that there is always a little bit of hope in this song (and many others) is one crucial element to why this record is so good. Cam is able to serve both sides full dishes without compromising one side, I mean, hey listen to the "steel-drums" at the beginning of "Fairy Lights" - this is pure Caribbean Bacardi feeling right there and the track becomes more and more glorious with every second and that Cam keeps it that way tells us a lot about the emotional state of the artist.
This record is the soundtrack to Cam's life which is dominated by her undergoing all the changes for a gender-transformation and everything that goes along with it including all the psychological problems connected to it because – and that is something that was clarified when listening to the record and reading up on it a bit – with such a transformation one should not imagine "all the problems" to have been magically sorted out, no. There are more questions connected to this process than one might imagine, because of course the person undergoing such a transformation is taking a final timeout on one life, opening another chapter and of a second book but not having finished the first one completely even though finding (the) closure of the initial book is more than needed in order to healthily continue with book two. Any person undergoing this process is (presumably) in contact with three different personalities, the old, the new and the one in-between.
Thinking about Blight Witch Regalia with this background makes it even harder not to fall in love with it, because it is exactly this: it is a three-headed personality, the clear roots in black metal, the drum'n'bass-middle and the synthwave-clad future. Even more, the record does justice to all three sides and that might be its strongest characteristic. "Aries, you Ripped the Child out of me" might be the best Blackened Synthwave track with a mission you might hear this decade, because it provides the ear with a lot to listen to and it is more than just a track, it's a statement in and of it itself!
Cam Davis, you are a heroic person, an inspiration and a real artist. But could you please kick those two out of their boredom into having some fun? They make me feel miserable for being happy. But hey, who am I to judge them, right? Once again, thanks for the perfect soundtrack to the beach in 2023 for everyone with an open ear!