The End - Why Do You Mourn
22 Jul 2023 - Stephan
Trost Records | Release date: 19 May 2023 | Favorite song: Whose Face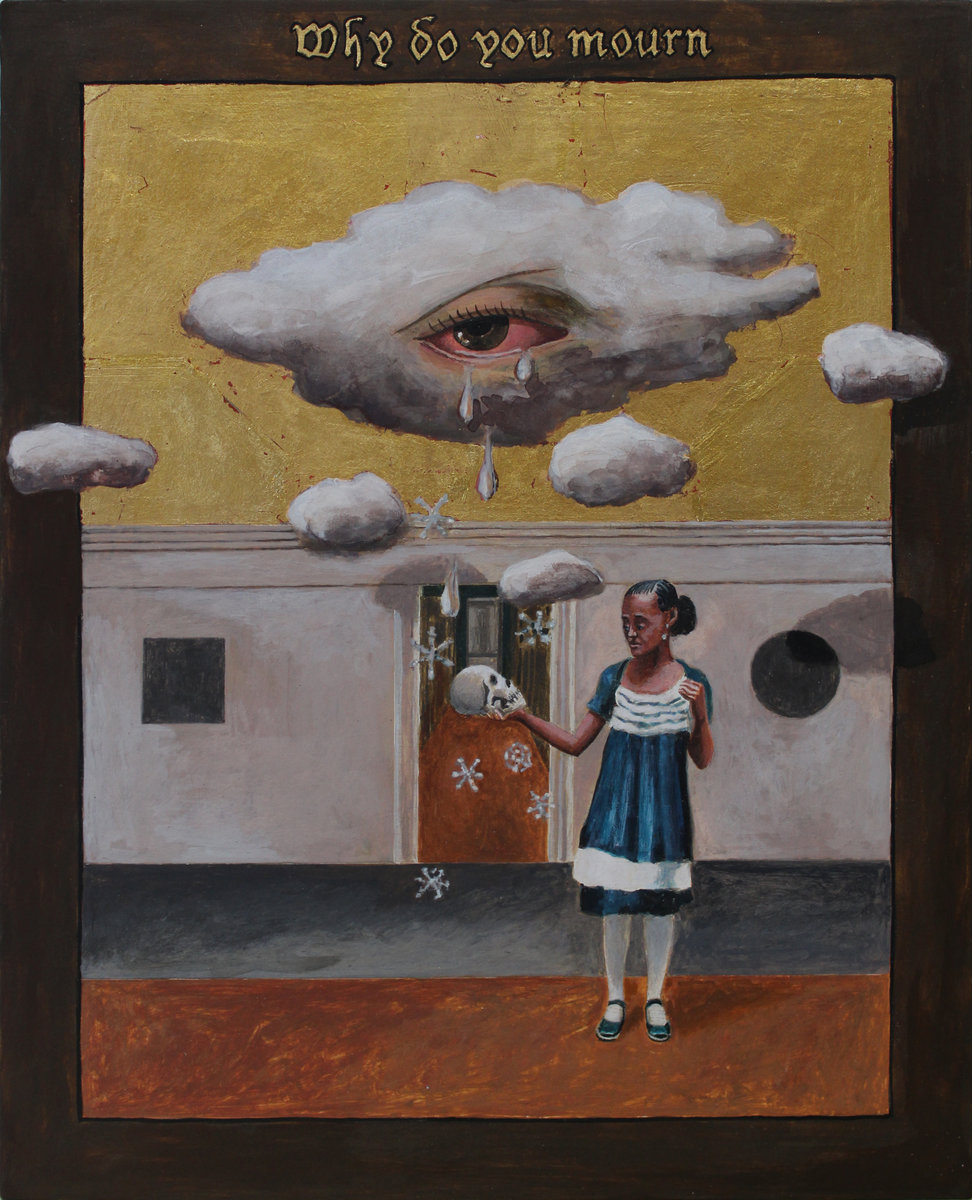 A…?
Yes, yet again this is one of those cases where it seems really tempting to anchor everything I write around the A-word. The dead however have recently spoken to me to sow doubts about the fittingness of that. But I'm getting ahead of myself. First things first!
Since there's a pretty high probability that right now you're connecting the band name with a different artist than the one actually addressed in this review, let's just clear this one up quickly, before we move along: On Discogs.com there are currently eighty-six artists listed as "The End" (plus twenty-six just "End") and this is number 72. And if numbers aren't your thing, just remember the easily recognizable cover artwork style by Edvard Jarves, whose painting have put a distinctive mark on all of their releases – two albums and one EP - so far.
This is also the The End which features acclaimed Scandinavian saxophone hooligans Mats Gustaffson and Kjetil Møster. So you can already be assured we're wading deep in wild waters here – even before we've introduced the madness of the three other members of the quintet.
Alike many fellow Northern European Jazz Rock artists The End don't draw visible lines between the genres they're utilizing and also don't limit the dynamics of their music to either side; there's no too quiet and delicate and for sure also no too heavy, too Metal.
It may happen mostly in the shape of (upon superficial observation) quite minimalistic Rock riffs here, but in its core it's actually tradition in most forms of Jazz to ground the music and hold it together mostly with the bass. Except Anders Hana doesn't even exclusively play the bass guitar, but also the langeleik (a droning zither variant used in Norwegian Folklore) and - most characteristic for The End - baritone guitars. Similar to the usage of the acoustic bass by French Prog Rockers PoiL those create a sound which is definitely hard and gripping, but somehow lives between worlds. And especially when aided by Gustafsson's baritone sax in a rhythm guitar role the result is a familiar heaviness with an unconventional twist. Which also applies for the powerful, but often polyrhythmic offbeat drumming – at least when you approach it from a straight-forward Rock perspective.
Naturally the point of view is always key. If the whole experimental Jazz part isn't your world, you'll certainly be very content labeling this album – here it comes! - as Avant-Garde. And probably file it under no thanks. If you already know the band however you'll notice that they keep it pretty accessible and comprehensible this time. In contradiction to me talking about Heaviness Why Do You Mourn actually has a high ratio of floating Folk-inspired passages and an overall mainly moderate or sometimes extremely measured tempo. The latter is most obvious in the finale, when The End slow down the 2019 Trip Hop track "Black Vivaldi Sonata" by Sudan Archives to over three times the length of the three-minute original.
While the heaviness is undeniable, the whole of the album is better described by being intense. And Ethiopian-Swedish soprano singer Sofia Jemberg's performance is a crucial element of that. As versatile as daring the vocalist doesn't even need to show her full range of capabilities to leave you stunned. Even though she doesn't sings gibberish, but actual lyrics in a defined arrangement, there are lot of Free-Jazzy ornaments in her vocal performance. Her harmonies and unison lines with the other lead instruments are also marvellous. Here she'll provoke you to pick the low-hanging fruit and use the Icelandic B-word (which if you're clueless ends on "jörk"), there she reminds me of Petra Haden on her collaborative album Devotional with Sunn O)))'s The Lord. And on "Whose Face" her vocal fry and wailings sound dangerously close to Anna von Hausswolff.
In the past I have likened her to Youn Sun Nah as well as Mike Patton, but depending on where you're coming from personally, and considering that there's no right and wrong in the individual perception of music anyway, there is probably an astonishingly endless amount of potential comparisons out there. The great late British saxophone player Barbara Thompson just posthumously released First Light, a collection of recordings from the beginning of the 1970's, featuring improvisations from the two very different Jazz singers Pepi Lemer and and Norma Winstone. Both immediately threw me to the thing which Jemberg is doing here stronger than most other artists which had come to my mind before.
And while none of those even slightly diminish how amazing her own skill and art are, it really makes you think whether the A-word actually still suffices.
Before this review was even begun, while I still thought about what to write about the album, another saxophone legend passed away with Peter Brötzmann, whose merciless big lung playing without a doubt has had a significant influence on the saxophonists in The End. He thought that it was ridiculous that people still called him Avant-Garde so many decades after his 1968 Free Jazz massacre Machine Gun. Shouldn't other, much younger musicians carry that particular flag now?
On the other hand – are there even any original A pieces left? Haven't we reached The End long ago? Hasn't everything been done a million times and the excitement and originality only lies in how you put them together? If that is so, Mats Gustaffson and Co. have frankensteined an incredibly young and healthy monster out of the old parts.