Agriculture - self-titled
13 Jul 2023 - Thorsten
Black Metal | Avantgarde Black Metal | The Flenser | Release date: 21 Jul 2023 | Favorite song: The Look-Suite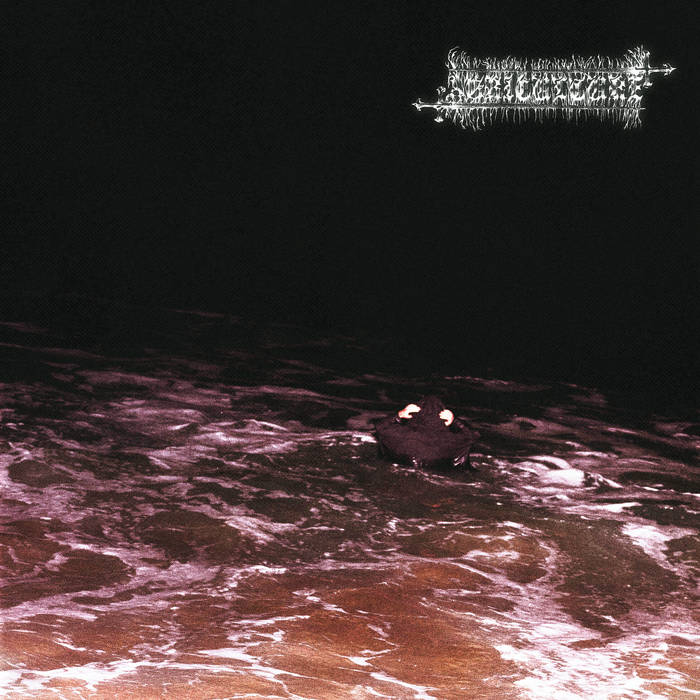 Well, many of you will now call me nuts when I state the following but I honestly feel kind of exhilarated while listening to the new release by Agriculture. The band is able to play their version of Black Metal with a twist that makes this not only a really worthwhile listen but also one that will lift your spirits – which direction? Upwards and onwards!
Haven't heard that in a long while, one of the best examples this side of the millennium would probably be Deafheaven's Sunbather and here we should all admit that the cover of that record played a certain part in it – think of the color scheme alone! Agriculture and its six tracks, plus the abbreviated edit version of the opening track "The Glory of the Ocean, Pt. 2", make for an abundance of unexpected joy but let's be clear, the cover is not nice, partially based on the fact that the person on the cover amid the waves is getting out or in, and neither if he wants to survive nor let go.
There is probably no better label for this kind of posi-black-metal than the Flenser; not that these guys are very Happy-Golightlys themselves but they sure know a good, different Black Metal band from the abundance of run-of-the-mill ones. When listening to the lyrics of the opening track "The Glory of the Ocean" one might feel as if it is clear that the person on the cover is drowning ("I felt the water deep in my lungs") but the second track makes it clear very early on that he is being saved "I can't just watch the boy die": "The Well is one wonderful, magical simplicity of a song, just Daniel Meyer-O'Keefe's vocals and an acoustic guitar line. And then, between "The Well" and the next track, "Look, Pt. 1" something happens, something that will leave you astonished, astounded and amazed (yes, I needed that a-lliteration to express my wondrous scratching of my head) – the lyrics are repeated in a song that is on the hand the same track but amplified and pure Black Metal Magic Blastfulness. Man, the twists in this track alone are so much worth listening to the record, as we again encounter Saxophone wizard Patrick Shiroishi again spinning our heads by weaving his web of Zu'esque sounds showing how emotional and sensational a Saxophone can really be when worked well. Track 3 to 5 form the "Look"-suite and are really great in all they do, for example spiraling into heights seldom heard before but really showing what Thin Lizzy or Iron Maiden and their dual threat guitar-lines might have sounded like if applied to Black Metal schemes or songs. Each part has its own individuality and yet all seem to share the same wish – to make us forget how sinister a certain intro was and how precious life can be.
Mind you, this is still a Black Metal band right, so do not expect a lot of clean vocals here – you get your bone-shaking shrieks and screams and everything you love about Black Metal. But you also get noise attacks in the hidden middle of some parts – those are due to Shiroishi, violinist Pauline Lay and Pedal Steel guitarists Nick Levine who add a lot of depth to the quartet. The band seems to have understood a lot of classical music songwriting, where you can also hide a lot of things in plain view and only at a certain point let it become clear what is happening to you. The closer "Relier" is surely a perfect example because you have to look deep behind the hurricane of blastbeats, shattering screams and guitar lines to find these little tiny bits of melody that slowly creep up the spiral. If Reznor wanted to take down an Aligheri-like abyss, then Agriculture try to guide you up the Everest like Tenzing Norgay led Hillary 70 years ago.
In a way, this record is as exhilarating as a meal at Grant Achatz' restaurant Alinea must be, where many things are not clear at first but become solved at some point during your meal, when you only later notice that the "stone" in front of you is basically edible. Agriculture also hide a lot of the positivity behind a shawl or gaze of Black Metal and it needs some time to understand the mechanisms behind the six tracks. Clearly, that moment of revelation is one of the ones I had in a long time.