Aodon - Portraits
27 Jun 2023 - Daria
Post-Black Metal | Willowtip Records | Release date: 09 Jun 2023 | Favorite song: Miquella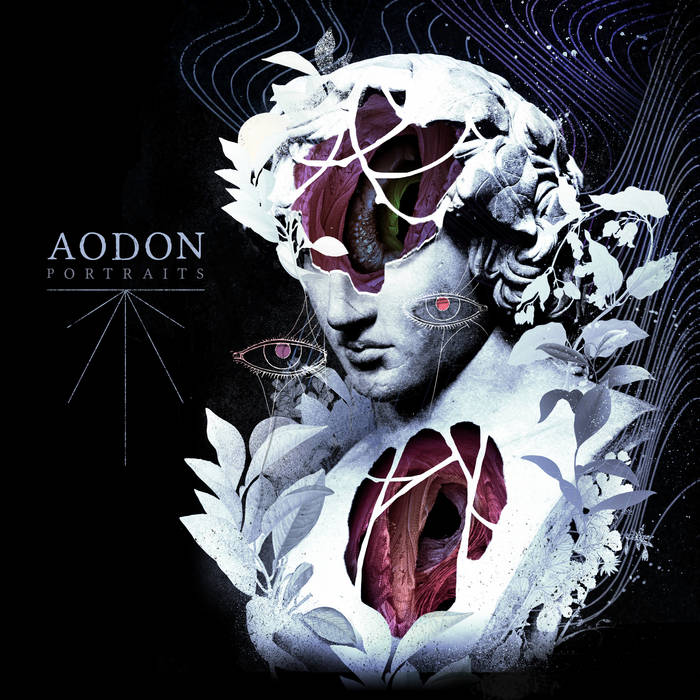 In the last few years I got myself into the discovery of post-black metal, atmospheric black metal and all these subgenres. I favour the live situation for this music genre since it makes me enjoy it better - but this is a personal preference. Few bands of this kind come to mind when I think about what I listened to at home, in part because I still have to discover a lot more and in part because, as said, I enjoy more the live context. So, why I'm here to write about a French Dark/Atmospheric Black Metal album? Because It had something that sounded right to me. Simply as that!
Portraits by French band Aodon has been released at the beginning of June via Willowtip. When I came across this band few things made me think ''okay, I'm going to talk about them''. First the language, I'm always fascinated to listen to bands that use their mother tongue (it's a linguist's problem, I know) so the fact that their lyrics are in French captured me. Second, Portraits is a concept album with a fil rouge that links all the songs together, another feature that always grabs my attention. Third, but not less important, the artwork: the fascination of a classical sculpture and the breach of interior layers gave me the right vibes about this record (and also it makes a lot of sense with the whole concept of the album, obviously but not always clear).
I did my research and I found out that this is the third album from Aodon, as a person that works in the music industry I know the ''myth'' around the third album (should be the one that consecrates you or at least define your identity, I personally don't care much about this ''mainstream'' thought but in this case is very right) very well. Portraits is that next level in Aodon's discography compared to the previous records, it shows a more cohesive and coherent sound, track by track you're not lost, you're perfectly in their world. And that's a big plus for a record.
As foreshadowed by the title, it is a concept album of nine tracks that introduces us "to nine individuals, one for each track on the album; fictitious or real, guided towards their fall by a different element: solitude, ego, addiction, belief, violence, obedience, abuse, destruction or love.'' (this is the same order as the tracklist, take notes because this will come back later).
Now, you can place these individuals where you want, I looked into the lyrics and I like to read them as part of a fantasy tale - this could be because I'm watching and reading too much fantasy tales lately - but it resonates well with me.
"Swen" (solitude) is the first track of the record and immediately puts the listener ''in medias res'' (in the middle of things), no melodic openings, straight riffs and vibrations. By the end there is a suspension, the end of this solitary struggle or time to catch the breath before the next person? "Egon" (ego), with its melodic opening and the lyrics (again, I'm thinking about the ancient fantasy context, where we have heroes and villains, humans after all with their struggles) that leave no doubt about this portrait. "Ressens l'ego suintant de ta gorge étroite / Bientôt prêt à jaillir d'un geyser noir opaque / Les peaux, la roche et l'écorce / Tout sera recouvert" (Feel the ego oozing from your narrow throat/Soon ready to spring from an opaque black geyser/Skin, rock and bark/Everything will be covered)
I won't do a track by track review because I want to leave you with some curiosity about this record and let discover thing by yourselves. But the next two tracks may be my favoruite ones: "Mayerson" (Addiction) - from a sound perspective I think this one should be the ''core'' of Portraits, it shows the perfect balance between melodic and aggressive. "Miquella" (violence) - the first woman's name in this tracklist. My favourite part is at the end 'Tes larmes saignent'' (Your tears are bleeding), after all the struggle and the story described before there is this exhausted moment. A very powerful song.
I really enjoyed this record, if you're into dark and atmospheric black metal you really should give it a listen. Let's end on a sweet note: I really think that in a live context this record would work really well, let's hope to see Aodon live soon and in that case I will let you know!