See You Next Tuesday - Distractions
11 Feb 2023 - Thorsten
Grindcore | Good Fight Music | Release date: 17 Feb 2023 | Favorite song: Strange Music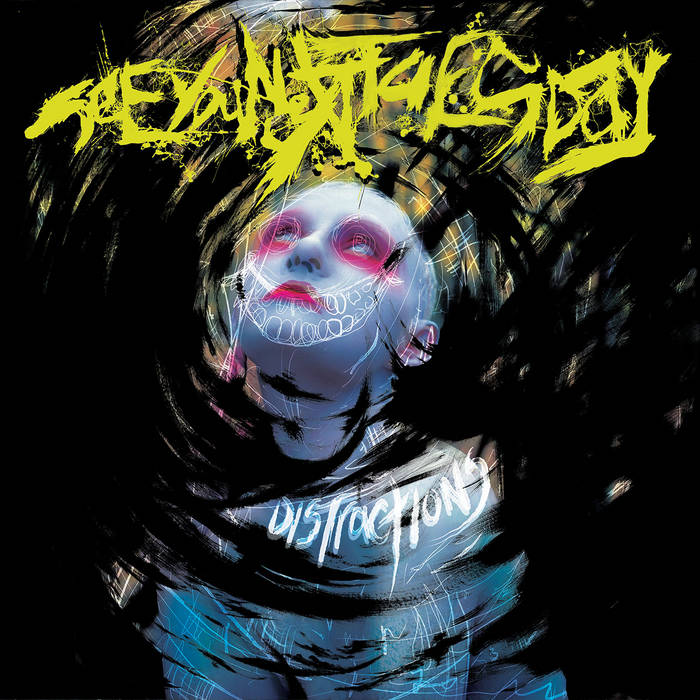 When talking to Drew from See You Next Tuesday, he gave a pretty concise answer to the question why so many of the great bands from the 00s are making mindbogglingly good comebacks since the beginning to 2022. He thinks that Covid is one of the reasons. After listening to Distractions, the new record by Drew's band, many people will happily say "Thank you Covid, even though you are pain in the youknowwhere!" The guys from Bay City, Michigan completely convince on these 13 tracks!
We had comebacks by City of Caterpillar and Gospel last year, 2023 brings back comebacks by Glass Casket and See You Next Tuesday, so this is not a coincidence, this is a trend. What a trend! Distractions delivers 13 aural explosions of different kinds to your doorstep and man, all of these are tasty and will make you want to call your local supplier again and again.
Yesterday, Martin spoke about Melodic Death Metal not happening too often (basically never) here on VoS, and the same applies to Grindcore. Even though there are two reviews online with "grind" or "grindcore" in their name, that nevertheless doesn't imply that we do not listen to that genre. When See You Next Tuesday came round to recording and releasing a new record after nearly 15 years, we were all ears and man, the tracks do not disappoint at all but grab you by neck of attention, spin you round till your feet leave the ground and you are basically flying around with the songs being your focal point and your gravity. The latter is surely a good term to use for Distractions because the songs are really heavy but in a positive way, but do not think that the guys are "just" heavy, because by giving the tracks the time to flourish inside your ears and brains you will discover that there is much more to them.
Here you can watch the video for "Hey Look, No Crying"
Take a track like "Hey Look, No Crying" for example: Yes, the beginning with the blastbeats, the angry and angular riffs and the Death-Metal-scream-vocals is pure Grindcore-paradise, but the way that they play with tempo is dizzying. Or take the break in "I'll Never Be The Same" - there are certain Australian Metalcore bands that would kill their entire family if they were able to slow down their tracks as well as the guys from North of Detroit are doing it here. Or when they insert some spooky guitar lines right after the start of "I'll Never Smile Again" which never seem to turn into regular riffs and which leave the rhythm section to drive the song forward. This is heavy, doomy sludge and closer to Electric Wizard than one might assume for a record whose feet are clearly leaning more towards Pig Destroyer than Conan. That "Day in the Life of a Fool" opens which a shrieking line that would not be out of place on a Petbrick record is so interesting, it will keep you on your edge already before all hell breaks loose. Don't forget to notice the somewhat Country-meets-Flamenco guitar outro of "This Happy Madness". Oh my, these tracks offer so many distractions from the typical Grindcore-sujet.
Here you can watch the video for "Day In the Life of a Fool"
However, we cannot talk about Distractions without talking about its extremes – in running time. The fifth and the ninth track are not marathon runners, they're sprinters wanting to annihilate records. And they're not running with scissors but with Nuclear grenades ready to detonate. If you want to know a lot more about how these unconventional nerve wreckers were conceived, you should keep your ears and eyes open on VoS in the upcoming weeks. The other extreme is the final track "Strange Music" which is the only track on the vinyl's b-side – by the way, be careful about the speed you are playing both sides in, there is some strategy behind it. Drew also confirmed that the last words on Side A (asking you how you distract yourself) are being answered by "Strange Music". Nice, clever, little pun. This final track is as close to Doom- or Sludge-Metal as the band has ever been. Including acoustic guitar pickings above an ominous synth passage as a start. A harsh Industrial break after roughly 100 seconds. The atmospherically dense passages that seem to build and add and enforce more and more before, well you will have to listen for yourself, to find out what will come next.
And believe me, you will likely press play again, in order to find more little things about this amazing comeback record, which distract you from Distractions itself. This record is one of these rare growers one would not associate with Grindcore. Thank you Covid, even though you basically are a pain in the …