Dream Unending - Song of Salvation
27 Dec 2022 - Ajay
Death Metal | Doom Metal | 20 Buck Spin | Release date: 11 Nov 2022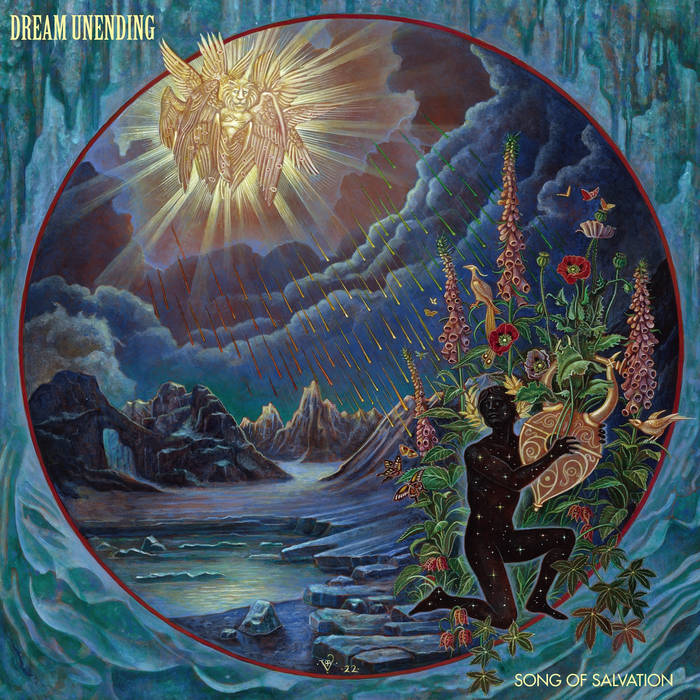 Given the chaos the world has been plunged into since a certain event swept across the globe in 2019, it is interesting how some musical artists/bands have managed their creative output. Some artists laid dormant, waiting for the chaos to pass so that they could step back outside. Others, such as Derrick Vella (Tomb Mold, Outer Heaven) and Justin DeTore (Innumerable Forms, Sumerlands), the duo behind Dream Unending, have had a very prolific period of musical output, putting out two albums under this project alone in the space of just twelve months.
In November of 2021, Dream Unending released their debut album Tide Turns Eternal. The album washed over you and hit you with a wave of nostalgia as you were taken back to the heyday of the Peaceville Three, being My Dying Bride, Paradise Lost and Anathema. These bands, along with Norwegian Black Metal legends Darkthrone, were the building blocks of the Peaceville label in the early 1990s, and ushered in a new sound for British metal, pioneering the death / doom genre.
Most bands will evolve from release to release, such as Dream Unending have with their sophomore album Song of Salvation. Though still rooted firmly in the Death/Doom genre as per their debut, they have embraced new sounds and influences in their songs, with second track "Secret Grief" opening to clean guitar, and clean vocals from Phil Swanson (who plays in Solemn Lament with Justin DeTore), plus the inclusion of trumpet played by multi-instrumentalist Leila Abdul-Rauf (Amber Ayslum, Vastum, Hammers of Misfortune), before the death growls crash in around the halfway point of the song, underlaid with a very Greg Mackintosh-ish guitar riff.
Track three "Murmur of Voices" is just that, an almost 3-minute vignette of murmured voices over some virtuosic guitar soloing, before rolling over to track four, the instrumental "Unrequited", that like the post-Darren White-years of Anathema, is heavily indebted to the prog stylings of Pink Floyd, which would easily fit in with any album of the sans Roger Waters years of the group.
Whereas Tide Turns Eternal was made up of songs ranging from 2-minutes up to 11-minutes, spread across the seven tracks, Song of Salvation is bookended with two epic songs, with the title track opening the album at 14-minutes and closing track "Ecstatic Reign" clocking in at 16-minutes, showcasing as much Paradise Lost's Gothic and My Dying Bride's As the Flower Withers, as it does the aforementioned Prog, even including a spoken word passage from classically trained actor Richard Poe.
Hopefully we will only have to wait another twelve months for Justin and Derrick to deliver us a third offering of Dream Unending tunes, but whilst we wait, if you have not already, let nostalgia overcome you and go back and see where it all began.