Osees - Intercepted Message
26 Aug 2023 - John O.
Garage-Punk | Psychedelic | Castle Face Records | Release date: 16 Aug 2023 | Favorite song: Stunner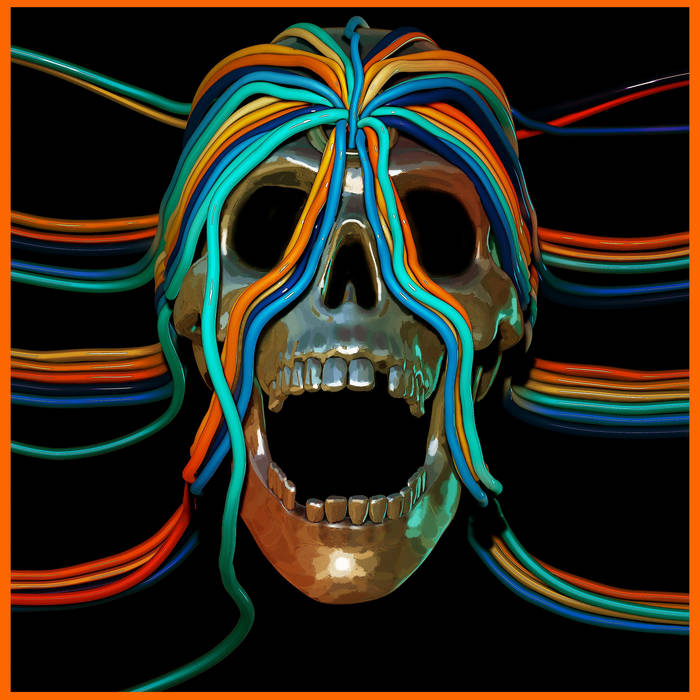 On their latest outing, garage-rock adventurers Osees embrace synth-driven motorik with a muscular collection of irreverent rockers, zany freakouts, and an 80s inspired synth ballad.
The Osees (or The Ohsees, OCS, Thee Oh Sees, or any of half a dozen other adopted monikers-du-jour) are never content to repeat themselves, consistently trying on different sounds and styles - from their signature punky garage-rock on 2020's Protean Threat to full-on psychedelia with 2015's Mutilator Defeated At Last. Their latest effort - Intercepted Message - sees the band embracing decidedly motorik beats and more synth-driven arrangements a la 1980s new wave acts like Devo or Talking Heads. But don't worry, there are plenty of face-melting, psychedelic ear worms to blast far too loud and blow your ear drums.
The album's opener - "Stunner" - brings the heat with its relentless pace provided by the dual drumming team of Dan Rincon and Paul Quattrone and driving synth lines from keyboardist Tom Dolas. Why does a band need two drummers, one might ask? Their brawny live shows provide the answer - the sweaty, synchronized cymbal crashes and snare rolls create an unstoppable rhythmic engine propelling the band and the audience through the night.
Recorded at the Los Angeles-based Discount Mirrors Studio (owned by vocalist, guitarist, and founder John Dwyer along with engineer and collaborator Eric Bauer), Intercepted Message seems to pulse with a loathing mistrust of society and a Devo-esque subversiveness only a band completely free of commercial considerations could muster. On "Blank Chems", Dwyer barks "a chemical blight, still of the night, I know, you know, got to be in control", channeling a kind of homage to Mark Mothersbaugh and crew.
With their customary irreverence on full display, lyrics like "the system wants you to feel free, but you'll not succeed" and "your king's a cunt, it keeps you down" in the title track, "Intercepted Message" present a scathing social critique. Dwyer seems to have peeked behind the curtain and now wants to let his audience in on his insights, "they fabricate the things you read, so be careful, see, what you believe".
Embracing the truly weird, "Die Laughing" discos its way through four minutes of pulsing bass, freaky guitar skronks, primal chanting, and knob twisting synth squeals in a psychedelic catharsis.
Dwyer and company reach deep with their cover of Blurt's "The Fish Needs a Bike". Blurt, like many punk acts, are in many ways progenitors of the Garage Rock movement, sharing similar mindsets and the desire to live life freely - where many Punk pioneers with such lofty goals shocked and offended with their brash attitudes, the Osees' mildly gentler approach has certainly afforded them some success in this regard (though the band's Punk roots run deep and they certainly have stories to tell and battle scars as proof). Running their own studio and label perhaps affords them less dependence on the music industry's distribution machinations than their predecessors.
"Goon" and "Chaos Heart" find the group treading familiar, yet heady ground with two of the more classic garage anthem tracks. "Goon" bleeps and bloops along, weaving a synth-heavy thread into something even the most hardened Osees fans will recognize - "a regular haircut, acceptable suit" subverted by "a goon in the daytime, a goon at night". "Chaos Heart" is perhaps the most classic Garage track on the album, evoking 1960s era Garage Rock with a staccato "oh oh oh" refrain and heavy vibrato on organ chords.
Dwyer, whose guttural howls and yelps can evoke a punkish imp (belayed perhaps by his boyish good looks and eternally muscular physique), eschews his usual vocal style on the album's 80s Synth-Pop-inspired closer "Always At Night" - a rare downtempo and, frankly, beautiful ballad, replete with near-baritone crooning. With nary a guitar in earshot on this throwback track, the effect it creates after so many blistering rockers is akin to diving into a backyard swimming pool after a blistering hot day - and while you're still at it, also enjoy the "hidden track" only available on YouTube (see below).