Ursular - Preta
17 Aug 2023 - Martin
Psychedelic Doom Metal | OMN Label Services | Release date: 21 Jul 2023 | Favorite song: Golem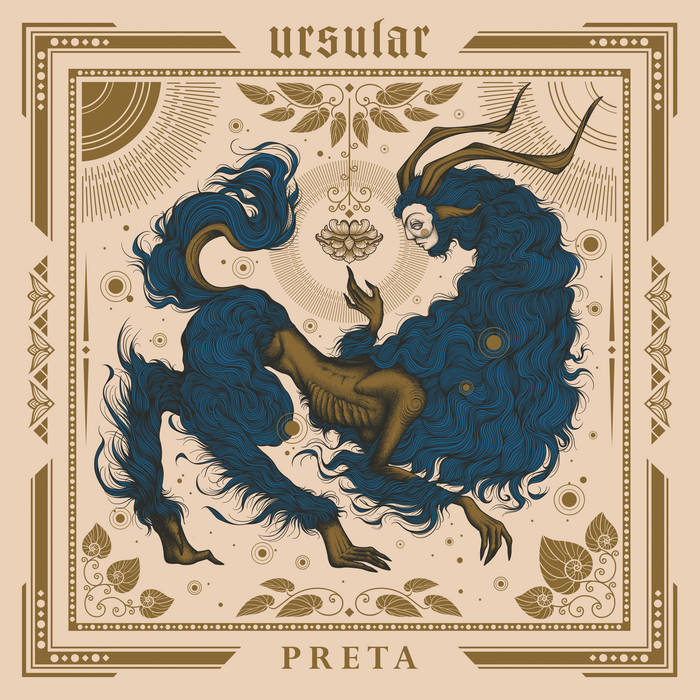 As if in a trance, your mind detaches itself from your body, drifts into unreal spheres filled with a multitude of enticing colors, yet slowly and concentrically starting to circle around a dark, nebulous center, while irrevocably seduced and stunned by an previously unknown entity. Congratulations! You have just most likely listened to the Berlin fourpiece Ursular and their intoxicating debut album "Preta" for the first time. "Saxodoom" is here and it is a force to be reckoned with!
It seems, that the combination of killer female vocals, doom and some added special ingredience just hits all the right buttons for me. Just look at my AOTY´s of 2022 and 2021: Messa´s "Close" and King Woman´s "Celestial Blues". You know the deal. And right up front, if you have also been excited about these two records like me, you most probably have just found your new favourite band.
Doom is the order of the day here: melodic, melancholic, atmospheric, framed by heavy riffs, but also with a mesmerizing saxophone, which - together with the deep, enticing vocals of Babett Richter and played by the front woman - makes the band stand out from the crowd and ensures a high recognition value. In case of "Preta" this is further highlighted by the excellent engineering and mixing work from Jan Oberg (Earth Ship) at Hidden Planet Studio Berlin and the mastering by none other than Magnus Lindberg (Cult of Luna) at VRTKL Audio Stockholm.
Thematically, the record is a journey through the wasteland of restless souls. It tells the story of hungry ghosts, who are remnants of the dead afflicted with insatiable desire and hunger/thirst, tormented by unfulfilled cravings and insatiably demanding impossible satisfactions as a result of bad deeds or evil intent carried out in their life times. Ursular's music perfectly complements the mysterious and haunting vocals that narrate the tales of these ghosts. And by the way, so does also the beautiful album artwork from Eric Sepsyz.
The first single release "Siren" opens the album with the seductive, confident voice of singer Babett, which directly evokes great 70s and Occult Rock associations. Slowly and ominously, bass and drums are integrated into the song, building up a strong atmosphere to a point where everything turns much darker in a ominous middle section. Here the distinctive sound of the saxophone transitions into a vibrating riff, which for a brief moment even radiates the coldness of black metal. Fittingly Babett gives us a cathartic relieve with a wonderful, desperate scream, like a siren calling for you in vain, before the song traverses back to it´s aforementioned heavy groove.
Second song "Malediction" has a riff that immediately sticks in your ear because of its effective simplicity. The verses unite the repetitive patterns with the ethereal-dark sound of the singer and the saxophone is granted longer playful passages, which gives the instrument a second lead voice, alongside the vocals. A underlying darkness ensures that gradually the feeling of a trance spreads like a magnificent "malediction". "Livores" uses this resulting feeling skillfully and leads with heavy riffs and a oriental touch further towards the darkness. In general, the constant repetition of simple but concise motifs is a strength of this album, because it creates an atmospheric depth that knows how to captivate constantly.
Last song "Golem" is no exception. First very spherical and relaxed, it develops into this heavy groove and a foreboding atmosphere, which the saxophone further enhances. On top that we have again Babett´s diverse vocal performance, a mixture of dark murmurs, clear vocals and hysterical screams. It feels like an ritualistic incantation sucking you into this dark, nebulous center mentioned at the beginning. Together with the saxophone and the sinister mood, which spreads more and more thanks to the guitars, the song evolves into a real trance until the last screams of Babett release the listener with a feeling of anxiety, but also fascination.
Ursular's "Preta" is plain fantastic for a debut album. With just 4 songs in merely 40 minutes it is comprehensive in its effect, sometimes urgent and heavy, then seductive and light as a feather. The music creates an intoxicating maelstrom between darkness, spiritual connection and musical extravagance, to which one must absolutely surrender. Almost unsettling what may still come. There is good chance that you may turn into a hungry ghost, with a insatiable desire for more and more "Saxodoom"!