Botanist - VIII - Selenotrope
02 Aug 2023 - Hunter
Post-Black Metal | Prophecy Productions | Release date: 19 May 2023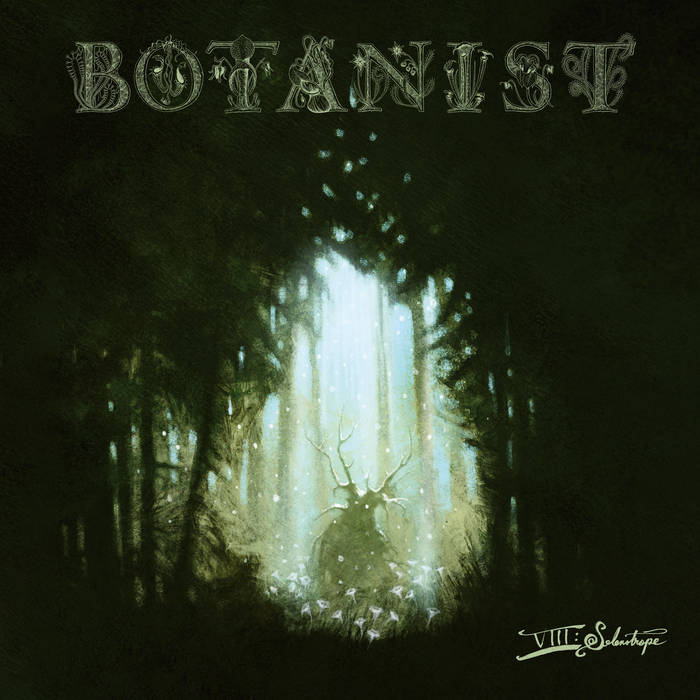 After the commercial success of Sunbather, the most historically outsider-unfriendly genre has seen a huge paradigm shift with some of the most innovative and exciting contemporary heavy projects using Black Metal as a sonic foundation. Amongst the most unique and peculiar of these is the California Post-Black Metal project, Botanist. With unconventional instrumental choices and atypical lyrical content, Botanist composes lushly atmospheric soundscapes which blur the lines between urgency and serenity. The sheer ethereal beauty underpinning the tracks within VIII: Selenotrope serve as a testament to the dynamics of Black Metal as a genre.
For those unaware, Botanist is the brainchild of San Francisco's Roberto Martinelli. Under the pseudonym of Otrebor, he has spent the past decade crafting conceptually-packed records both as a solo artist as well as accompanied by a full band line-up. The mythos within the discography follows the romantic perspective of an entity known as the Botanist, a reclusive misanthrope who endeavors to bring about the end of humanity in order to usher in a new green era for the world. The narrative has spanned ten records currently. VIII: Selenotrope is Roberto's sixth record as a solo artist and his first solo endeavor since 2014's VI: Flora.
"Against the Selenic Light" opens the record with marching snare patterns, building momentum into a variation of a Folk/Punk shuffle intermingled within a blast beat. The percussion is serenaded by a dyadic dulcimer line which, heard in isolation, could be mistaken for a lost Gymnopedie. Around 30 seconds in, hammered tremolo notes reverberate against rhythmic double bass in perhaps the best example of how unexpectedly beautiful 'unplugged' Black Metal can be. Even this early in, it is evident that Otrebor has evolved into a much more capable musician and skillful composer since his Flora days.
As the record continues, the influence of the "Collective records" which came after Flora and preceded Selenotrope becomes more evident. "Risen From the Rain" offers an emotional and contemplative six minutes filled with surprisingly hum-worthy melodic hooks and a tear-jerkingly gorgeous blast beat section. Bombastically orchestral "Epidendrum Nocturnum" vacillates between anxious and ambient, featuring the most Neoclassical double bass verse of the record and ends in a half-time crawl with hauntingly harmonized vocals similar to those heard in collective releases like Ecosystem and Photosynthesis. These vocals continue throughout the record as it progresses through moody slow burn Mirabilis and most prominently on "Angel's Trumpet", an upbeat and consonant track which calls back to Flora with its use of economy and drone.
The title track allows a moment of respite through a sparse drumless and instrumental composition which pronounces the percussive nature of the dulcimer, dripping in cavernous reverb. Obtuse drum patterns and clandestine whispered vocals alternate with eerie and delicate choir vocals on rhythmically-driven "Sword of the Night", which is perhaps the album's most experimental and dissonant track. Following this, Selenotrope closes out with a 15 minute marathon. "The Flowering Dragon" is a triumphant journey throughout the tropes found within the record and, more generally, in Botanist: propelling drums, odd rhythms, chorale vocals, modern and classical influence. All these elements coalesce in this grandiose epic worthy of being an EP in itself, awe-inspiring and ecclesiastical in sound.
For long-time fans of Botanist, Selenotrope represents a sonic amalgamation of the solo and Collective Botanist releases whose reception might prove contentious. However, that very perennialism establishes the record as a good place for new listeners to begin and explore the discography for themselves. To the traditionalist, the instrumentation might seem antithetical to the treble-heavy saturation of distorted guitars which comprise much of the sonic space within black metal. Even in comparison with the overdriven drones and synth pads of Flora, Selenotrope sounds acoustic in timbre and composition. Some might turn up their noses at these changes, and understandably so. The new record is not a conventionally heavy record. If not for the overtly black metal drumming, an outside listener might think they were hearing a post-rock or even a folk band. However, this is not a derogatory or pejorative comment. While the dulcimer has always been the primary component of the Botanist sound, I'll admit that there have been moments in previous records where the instrument felt like a novelty which was worked around rather than written for. The compositions found within Selenotrope are some of the most purposeful Botanist has released and glorify the natural tones of the dulcimer rather than hiding it within layers of distortion and reverb.