Ulthar - Helionomicon & Anthronomicon
12 Feb 2023 - Thorsten
Avantgarde | Death Metal | 20 Buck Spin | Release date: 17 Feb 2023 | Favorite song: Anthronomicon, Saccades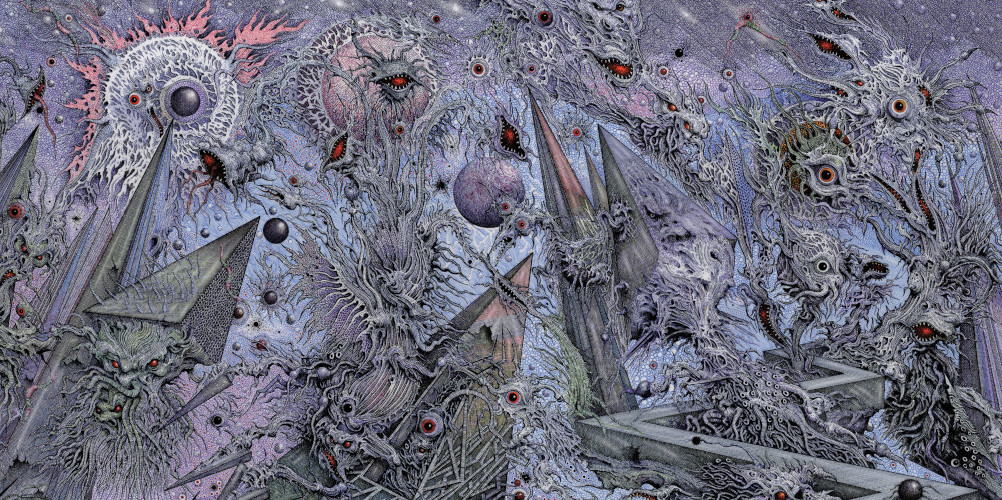 Ult… Ultar, Ultha, Ulthar – that syllable seems to stand for some amazing metal bands, and heck, even in pop it surely shows significance with Ultravox or one of the most underrated Depeche Mode albums being Ultra. Ulthar carve another bit of proof not in stone, but straight into metal with their latest albumS Helionomicon and Anthronomicon. Enjoy getting your neck beaten to shreds.
Tech Death. Not my usual playground, but when it is done well, then it is one of the most amazing genres ever, because it shows musicians at the height of the technically possible in their genre who challenge themselves, their audience and even future generations. Does it really matter which was the first Tech Death record? Might it have been Nile, Cynic, Death or Atheist? Or is Necrophagist the first real one as the former ones could be seen as forerunners who laid the foundation for the fraternity that would turn into the mighty form we know today. If we had to define Tech Death, we might agree that it is Death Metal with a lot of structures from other genres as diverse as Jazz or Prog Rock or Grindcore paired with a thirst for pushing what is physically possible to be played and for creating soundscapes clearly Death Metal but simply much faster. One thing is surely clear, cascading guitar lines with slight tremolo aspects but without trying to be neither too melodic nor too brutal.
Oakland's Ulthar surely play a miraculous form of Tech Death that appeals to many people from various metal backgrounds and, of course, especially fans of Atmospheric or Avantgarde Tech Death Metal. They showed a lot of talent on their first full lengths Cosmovore and Providence but their new recordS bring out the best stuff the trio has ever offered. To make things a little complicated we need to explain that Anthronomicon has eight tracks but not a title track – the track "Anthronomicon" can be found on the record called Helionomicon alongside the title track of said vinyl. On Helionomicon there are only these two tracks but they are mighty epic and tick in at a bit over forty minutes. Anthronomicon is basically equally long but divided into eights tracks. So, on Helionomicon you get two tracks of 20 minutes apiece and on Anthronomicon you get eight tracks with lengths between 4:34 and 6:50 minutes.
These eight track already show how well-articulated the trio is within the boundaries of their genres making loads of good use of their knack for creating tracks that are not simple brutal assault but also deliver on the Atmospheric level with vast, empty (synth) passage, for example the middle passage of the final track "Cultus Quadrivium", a nod to the old ancient and medieval part of learning: the "quadrivium" was the second stage which also featured lessons in music. The middle passage of this track sounds like static winds crossing the dilapidated vast-lands of a futuristic Midwest, before the track ends in some churning, slightly industrial creeping horror-sphere without the need for any shock moments but simply relying on the gnawing sounds that make one's skin tinge. Of course one finds a lot of sheer breathtaking ultra-vast-speed attacks like "Fractional Fortresses" which will boil ones blood with their general speed and the lightning speed changes in tempi, riffs and blastbeats. Keeping count of the many twists and turns of these songs will be near-impossible but the seemingly seamless transitions between a Grindcore attack and some minute Punk uptempo part (for roughly 15 seconds) are nothing short of jaw-dropping.
And then there is Helionomicon. Man, how shall one try to describe two tracks spanning across 40 minutes?! Let me just tell you, that this is not, in any kind, in the slightest sense the regular Tech Death that many bands offer. This is pure Avantgarde because of the many different genres involved. Some parts are like Future Spaghetti-Westerns (listen to the first passage of the opening title track), some are jazzy Country improvs, others are Ambient Noise (like one of the middle segments of "Anthronomicon"). These two tracks alone will make such a difference in Ulthar's discography, maybe they are starting points for future journeys, maybe they are a one-time experiment. No matter what they "will" be, they "are" awesome.
If you can listen to these two records without being impressed at the level of execution of such diverse and different stuff, then you must have lost your ability to hear. And if you want to know more about how the records were conceived and why the heck they are not combined on a double gatefold-record (as of yet), then simply listen to our interview with Shelby Lermo. On these 80 minutes you get Ulthar Ultra-good but without any Ultravox. Fortunately. Additionally, we might have two news record to effectively demonstrate what Tech Death Metal is, because this duo is surely a role model for highly conceptualized and yet extremely emotional Avantgarde Tech Death of the year 2023.