Marc Urselli's - SteppenDoom
08 Nov 2022 - Stephan
Doom Metal, throat singing ("Indigenous Doom") | Magnetic Eye Records | Release date: 18 Nov 2022
Many years in the making and stuffed with an almost ridiculous all-star array of global doom metal royalty and renowned throat singing masters, Marc Urselli's passion project SteppenDoom - aptly dubbed "indigenous doom" - exceeds all expectations arising from this premise and achieves nothing short of unearthing the very primal essence of doom itself in an unexpected place.
Even when omitting the vocalists, the cast which the Swiss-Italian producer/engineer/sound designer/composer-jack-of-all-trades gathered for this album indeed reads exceptionally impressive, with musicians from bands like Sleep, Neurosis, Secret Chiefs 3, Saint Vitus, Paradise Lost, The Obsessed, Acid King, Swans, Heilung, Cult of Luna, Zu and Ulver plus Urselli himself providing the enormous instrumental backdrops. And if you see not only these band names but the actual people behind it (yes, it's Matt Pike, yes, it's Steve Von Till, yes, it's Trey Spruance…) this thing seems even bigger. That being said you shouldn't buy this record mainly because you're a superfan of one guy like Wino or Johannes Persson or anyone else really, because this isn't meant to be their show-off revue.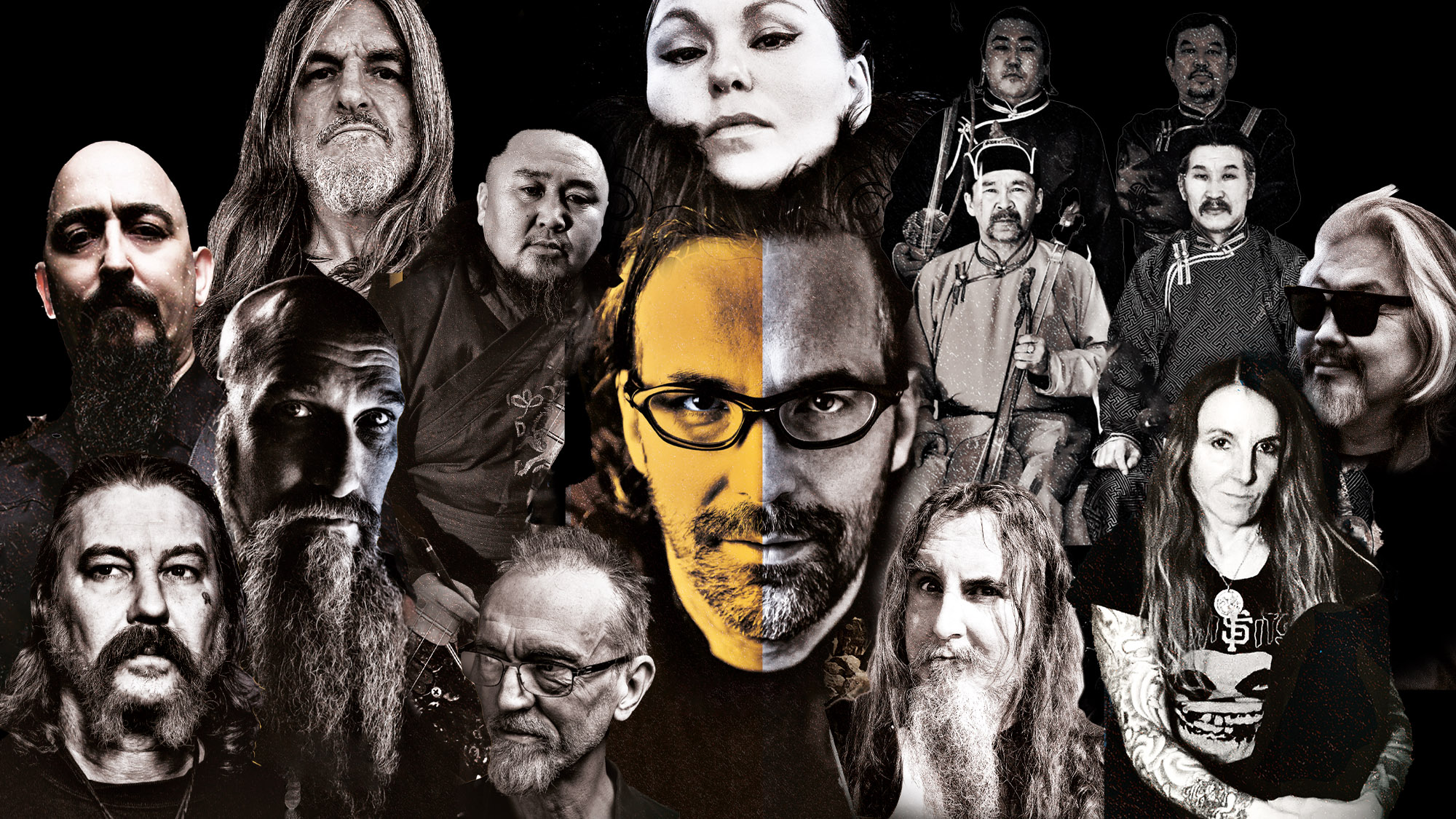 Of course you will recognize individual styles and tones, but the focus of SteppenDoom always lies on melting all contributions together in service of the greater idea.
The concept of the project builds upon the observation that those communities around the globe which nurture ancient throat singing traditions, all face threats against their homelands by industrialisation, depletion of resources and pollution. With growing examples of native cultures utilizing their own spins on metal as an expression of resistance, SteppenDoom steps in to amplify this current with a widespread perspective. Urselli reaches out to some of the most popular overtone voices from Mongolia, the Inuit in Canada and the autonome Russian republic of Tuva and offers them the most sincere heaviness in Doom and Drone metal in a powerful production so obsessed with detail that your headphones will rejoice from joy.
Chances are that you're not an expert on throat singing. But metal (or at least metal-adjescent music) and this - it has happened before, right? Of course it has been done: Be it some metal vocalists occasionally trying their skills in the game like Wiegedood's Levy Seynaeve, the impressive pseudo-historic fantasy spectacle of Heilung or that one band which even authentically comes from Mongolia, The you know hu. Unfortunately I just cannot stand the generic kitsch metal part of the latter.
SteppenDoom brings this fusion to another level not only concerning sonic weight, but also when it comes to variety, as each of the six tracks (plus almost forty minutes of bonus material depending on your choice of format) features another lead vocalist. And as even we non-experts can easily realize Huun-Huur-Tu, Tanya Tagaq or Phurpa's Alexey Tegin (just to highlight the ones I assume are most well-known) are not just different names, but actually worlds of pitch, technique and effect apart from each other. And this richness of rattles, roars, drones and whistles not only prevents any risk of tediousness, but also lends the project an educational anthropological quality, showcasing the whole spectrum of the ancient art.
For thoroughness' sake the other singers which listeners deeper into the subject might recognize are Batzorig Vaanchig, Albert Kuvezin (Yat-Kha), Erdenebat Baatar (Erka), Karen Panigoniak and Maria Illungiayok, Utelo and the Alash Ensemble.
If you are asking for contemporary references which feature of similarly epic scale, authentic vision or sheer intensity of sound, I give you the frightening Javanese gamelan doom of Rinuwat, the primeval musical myths of Neptunian Maximalism, Jason Köhnen's projects Bong-Ra and Mansur and obviously various flavours of Sunn O))), including "The Lord" Greg Anderson's latest collaboration with Petra Haden. Among the aforementioned bonus tracks the half-hour long meditation "A-dkar Theg Pa", which features unfathomably deep gutturals and the largest flock of instrumentalists including Norman Westberg, indeed dives so deep into modern Swans grandiosity, that at least The Glowing Man needs to be included in this listing as well. Don't let yourself be put off by producer-driven projects not being the common norm in metal! What Marc Urselli (whose credentials include various releases with Eyvind Kang, Kayo Dot's Toby Driver and over eighty-five albums with John Zorn alone) created with SteppenDoom is a huge effort in every aspect. This album will widen your perspective on doom. It points far beyond the confines of the genre, while its primal spirit centers you right in its heart and root.
As of late 2022 is strongly catching up in providing me with monumental Drone and Doom metal, so it may appear bold to already claim this now, but this is an AOTY top tier contender and for sure the doom release to outdoom them all.