Damnation is the pinnacle of metal music for many. It's as much a showcase for up and coming bands as it is for established bands. Experrtly curated, it has becose the largest indoor metal festival in Europe and it has returned for a full day of music and camaraderie. We were lucky enough to be there to experiencee it in all of it's glory
For those in the know, Damnation festival isn't just another music festival, it's a chance to listen to some brilliant music with friends, some friends you have met before and some you've not had a chance to meet yet. Run by the inimitable Gavin MacInally and Paul Farrington the festival has come to be known as one of the friendliest and open events of the year. The array of musical talent on display this year was extraordinary. The fetsival returns to (it's got to be said) it's less then glamrous industrial estate location in Manchester, but what it lacks in looks, it more than makes up for in atmosphere. The small teething issue of last years move from Leeds University were universally sorted out and the event was stunning from start to finish.
The day kicks off for me with Nordic Giants. Aaron Turner of Isis the band and Sumac once described post-metal as thinking man's metal. I put it to you that Nordic Giants are the thinking man's music (non genre specific). It's cerebral and with a message. It's an almost overwhelming start to the day with the band letting the visuals take the limelight whilst they blend into the background. And oh boy, wehat visuals they are. At one point, a short film called Last Breath was shown. It's not an understatement to say that for the majority of those in attendance, this was an emotionally blindsinding moment we were very much not prepared for. It was a stunning way to start the day and was a flag in the ground for peformance of the day.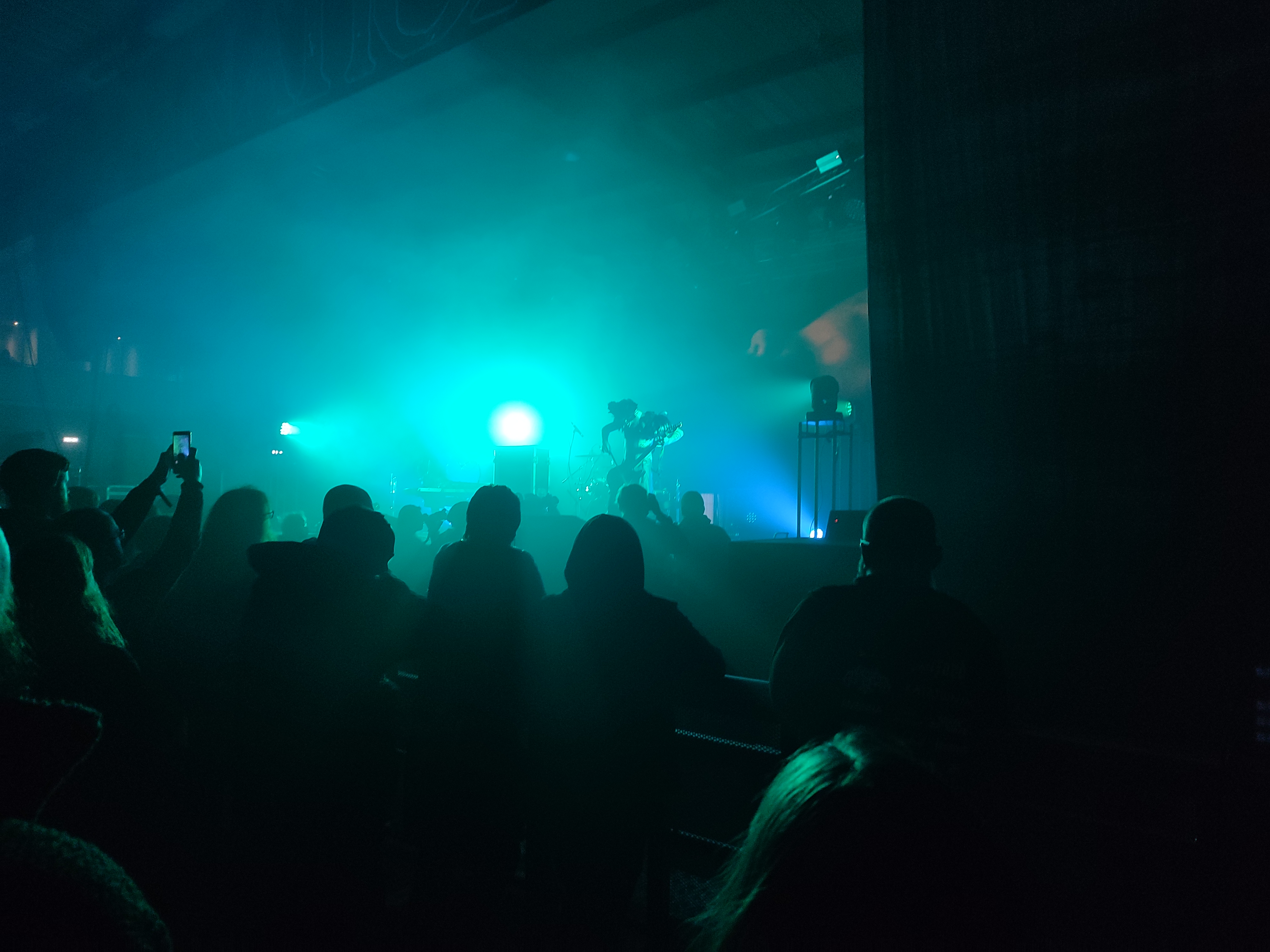 Nordic Giants Kurokoma were up next and like a marauding horde of Mongals, they take no prisoners and really kick the day off with a bang. The first of a couple of surprise guests started with an operatic singer which due to the brilliance of the musicians, fit perfectly. However, about half way through the set, the second of the guests arrived in the form of a guest rapper. Many baffled faces greeted this turn of events but by the end of the song, he had won the crowd over and many heads were nodding along, it certainly shook things up and certainly took a lot of courage to do that kind of thing at Damnation I'll give it that!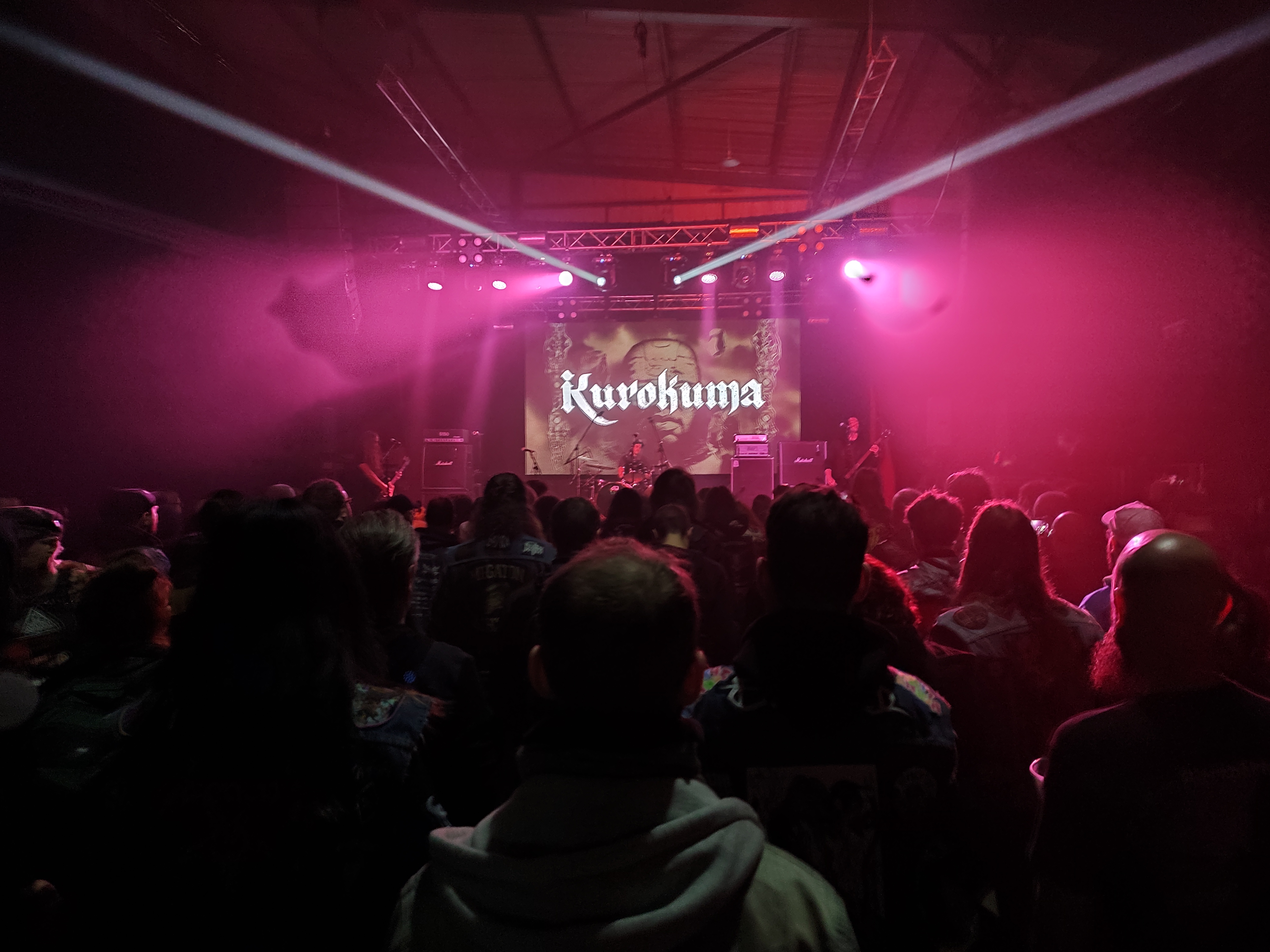 Kurokoma Next up was the very first UK appreance of Khemmis. This was proper metal done properly, galloping guitars were the order of the day and the crowd lapped it up. Switching between power, traditional and thrash metal on a dime, the changes could have been whip lash inducing in less capable hands but they made it seem easy. They also seemed very happy to be playing too which absolutely comes across in their music.
So, onto Ashenspire who are a band which I caught at Arctangent, albeit from the very edges of the tent, so this time I was determined to get a little closer. A more diverse group of individuals you will never see, Ashenspire come prepared to expand your mind. Impossible to pidgeon hole, they bring together a mix of so many disparate genres that it's a fools errand to try, one minute it's free form jazz utilising their sax player (who looks groovy in tiny blue shorts) flowing into full blown black metal back round to gentle ambience. They are not messing around and fully confront the issues of the day, they do this through atonal and very alternative music and the angry screams of front man Rylan Gleave. It's a heady mix and every time I see them I get more interested by them, great stuff.
It's now mid-afternoon, a time for some other festivals to slow down a bit and have some lunch, not Damnation! This marks the turn of metalcore legends Unearth. Now, I didn't know anything about them beforehand as I don't listen to a lot of metalcore, but they are very good indeed. The songs go down a treat and there is a sizable pit with limbs flying everywhere, uterly driven by the gigantic front man who seems intent on causing as much chaos as he can. The people who know their music seem to be going bananas, and I applaud the man om stage who is wondering around with a beer Syphon dispensing liquid refreshments to the band mebers who all take their turn, it's a great idea, and I start wondering if I can get him to come over to me!
Next up was Ohhms. When I got word that this would be the bands last ever show, I had to see them off. It was a bittersweet show, and the band gave it all thet had. Front man Paull Waller thanked everyone he could think of and, lets face it, it just wouldn't be an Ohhms show without Chainy throwing his tshirt into the crowd and diving right in after it. Who knows what they could have become, we'll never know, I guess all the best the things know when to call it quits, leave 'em wanting more as they say, and if thats the case here, that's exactly what they've done, good on them.
Now, I don't suppose many people in the crowd knew much of the solo music of Julie Christmas with most knowing her as one half of the Cult of Luna/Julie Christmas album Mariner which has gone down in folklore as one of the best (if not THE best) gig of all time at Damnation. So it was an utterly splendid (sort of) surprise when she came on and blew everyone away. Enigmatic, unique, spell binding. All of those words describe her, but none of them do her justice. She is such a magnetic performancer and her voice really is a force of nature. Cult of Luna frontman Johannes Persson even played guitar. Her's is a singular vision of intensity, and it's hard to drag your eyes away from her, completely brilliant set.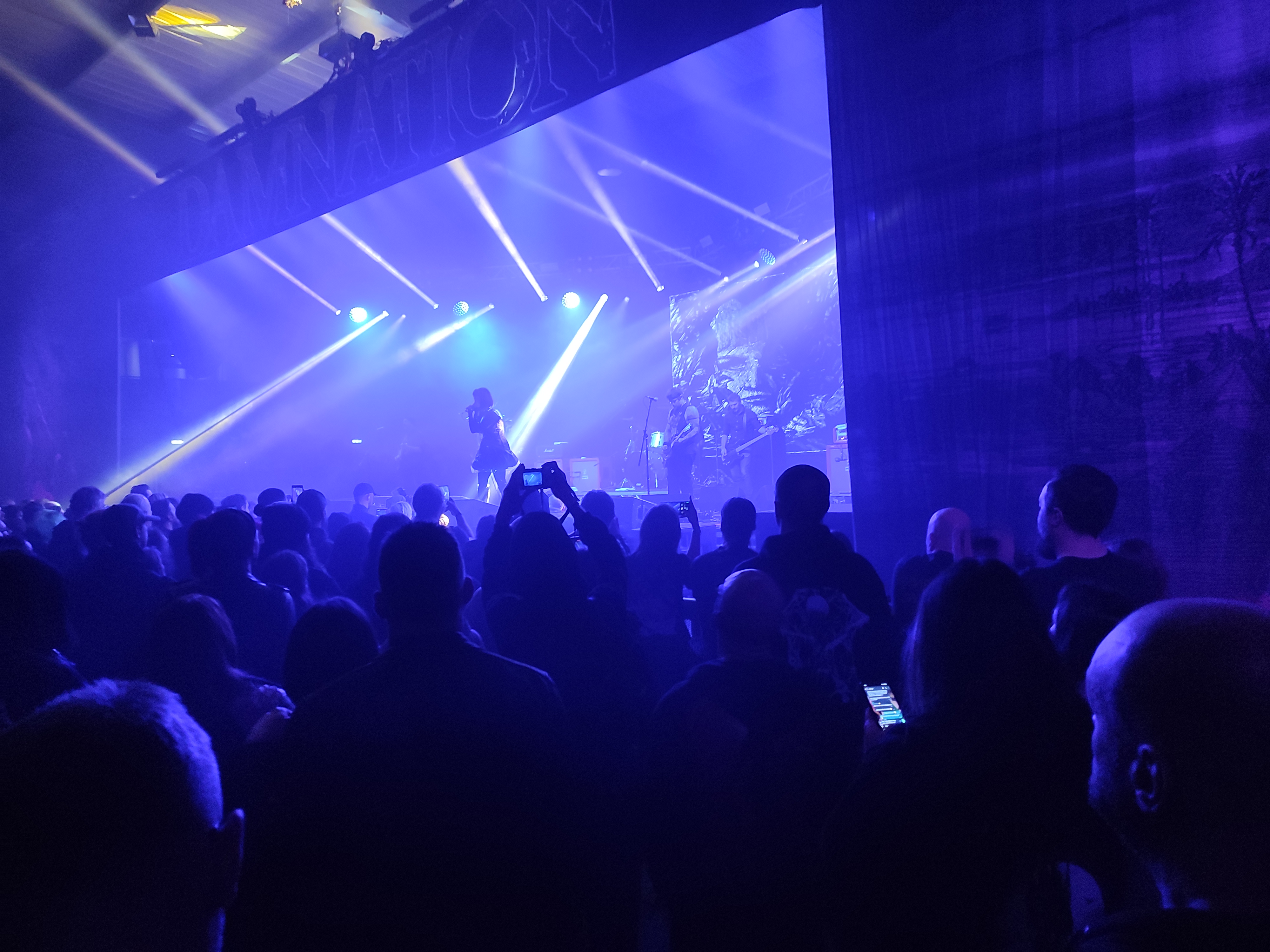 Of all the bands on show today, Amenra were the ones I was looking forward to most of all. What can I add to what's been said before?. You don't just listen to them, you experience them. For me personally, they are the best live band on the planet. Utterly crushing and so very vulnerable, it's like a unified religious experience for people who are not religious, it's stunning in its intensity and people are visibly moved by what they are listening to, mind blowingly good from a band who mean so much to so many people.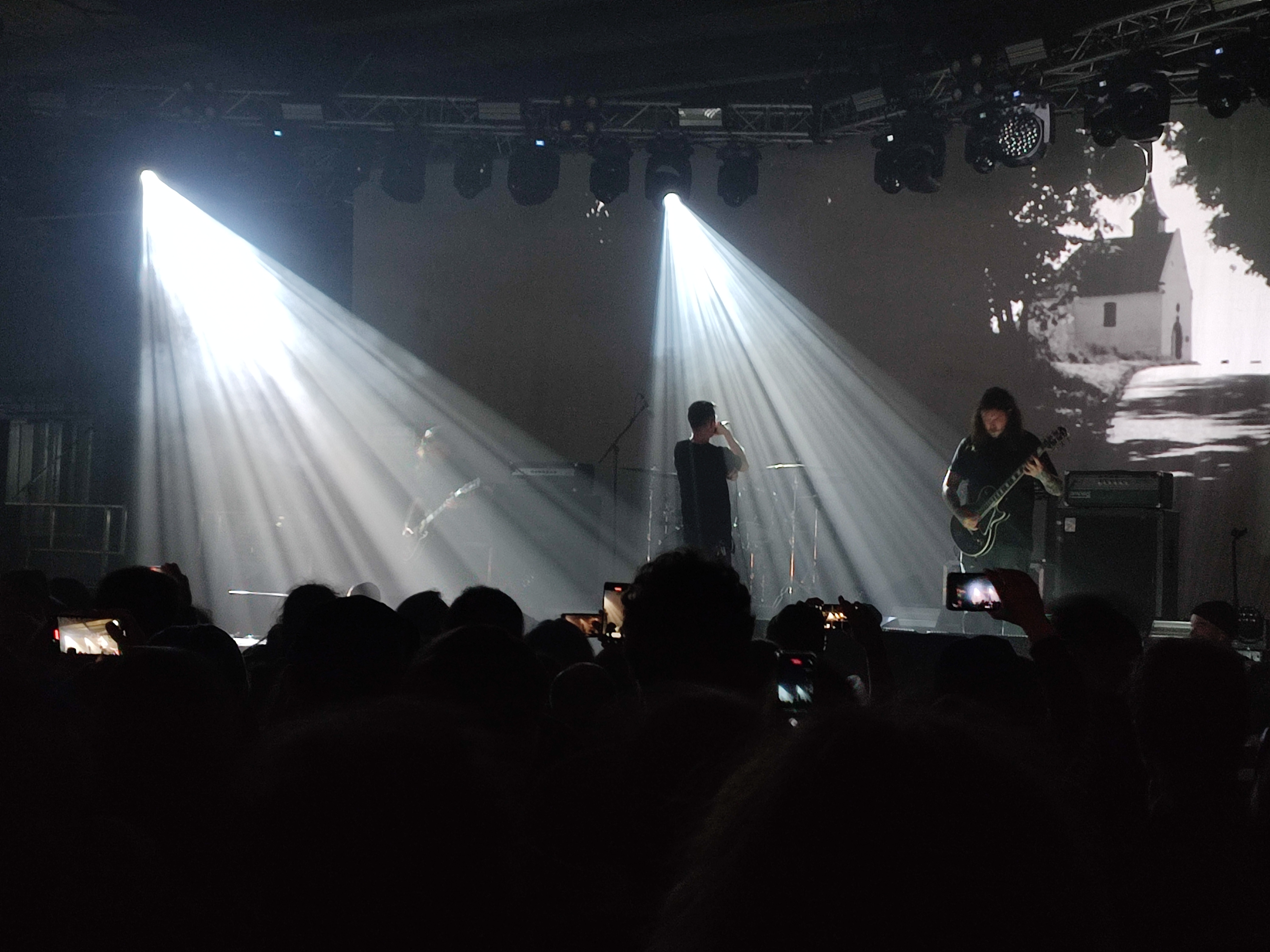 Amenra Of all the things to say about Damnation, sound issues are almost never mentioned, because normally the sound is spot on. I say almost never mentioned because the spectre of technical issue reared it's ugly head for Katatonia. Lots of hushed conversations and non starting occures until, at last, some 15 minutes after they were supposed to, they start. Understated almost to a fault, after being blown away by Amenra this was a meandering set which just didn't hit the mark for me, plus the drums were almost overpoweringly loud, it's a shame as I was very much looking forward to hearing them. Not so much as bad, indeed they were very very good, just wrong place at the wrong time for me personally.
Up next was supposed to be Ahab, but they had to cancell at the eleventh hour, so, who was going to replace them? When rumours started circulating that Bossk were going to play, I got very excited as I'd missed them the previous night. This was a chance to hear one of the UK's finest bands and was quite litterly, music to my ears. And so it came to pass that Bossk stepped in at the last minute to play an impromptu set. And oh boy did they make the most of it. Making full use of the massive video screen behind them, bathed in smoke and pulverising all who witnessed them. They were completely and utterly brilliant from start to finish as they gave a masterclass in dynamics, turning from achingly gorgeous to crushingly heavy in the most wonderful way. Johannes Pearson guesting was the rather amazing cherry on top of a stunning set.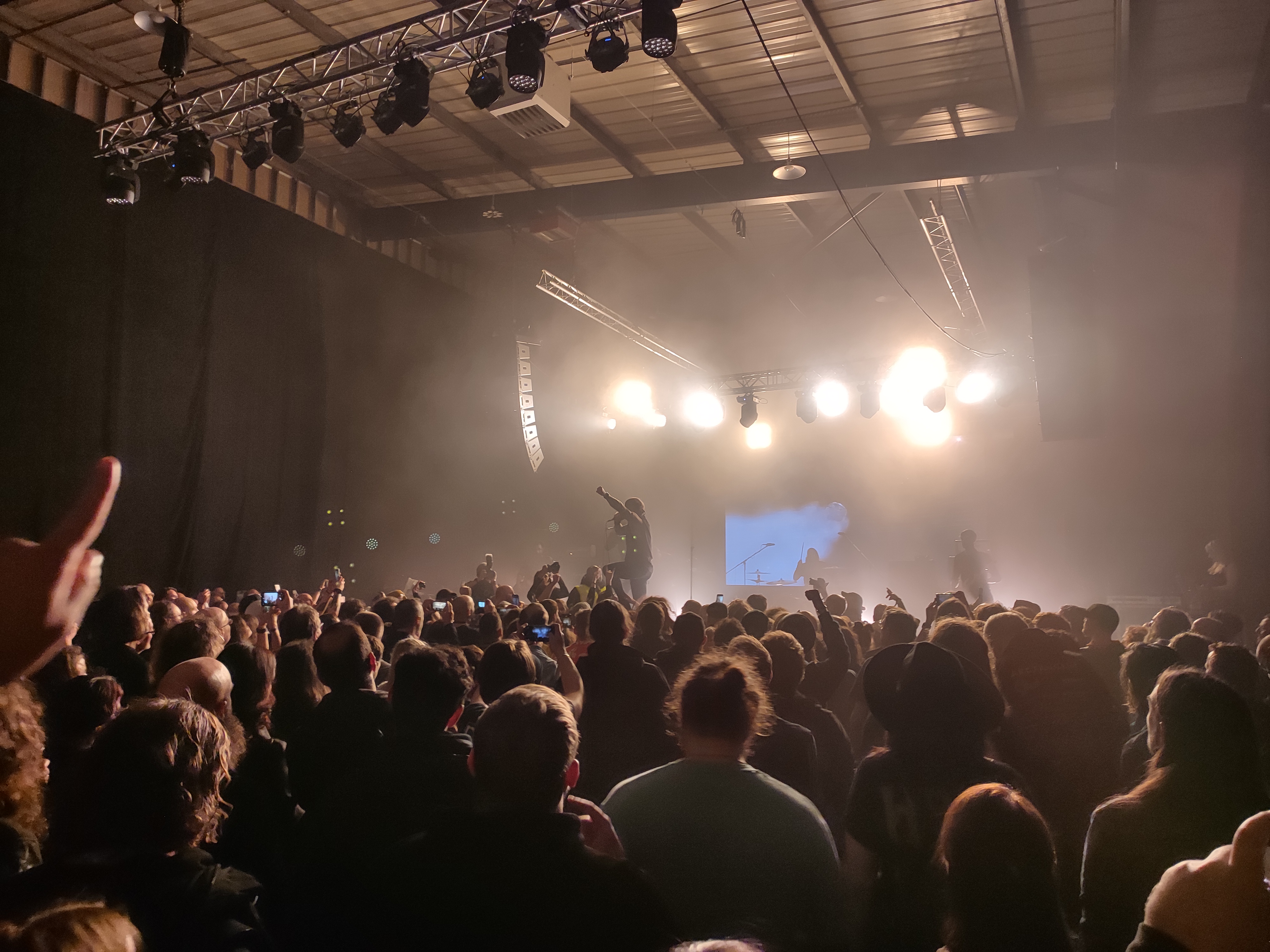 Bossk At first glance, a band like Maybeshewill should absolutely not work at Damnation. An instrumental joyful post-rock band headlining the seond stage. It's a joyous endorsement to the crowd at Damnmation that not only are they accepted, but welcomed like long lost friends as we all raise our glasses in an explosion of unbridled happyness. It's a most enjoyable sorbet after a day of peanut brittle, the change of pace was just what I needed and the band absolutely made the most of their headline slot, they were mesmerisingly good
And so to the final band of the day. They do not play live much nowadays so I don't need any excuse to catch the venerable Electric Wizard. Like an avalanche in slow motion, the headliners set about laying waste to the Damnation stage. There is a sense of inevitability to the throbbing low end the band produce. An unstoppable noise machine made up of all encompassing riffs, the band were on top form and were a formidable way to end a rather amazing festival.
And so, as I staggered back to my hotel room, I got lost in a euphoric sense of musical and sensory overload, safe in the knowldedge that there really is no other festival like Damnation.