Joe Carducci - Chicago Stories
14 Jun 2023 - Thorsten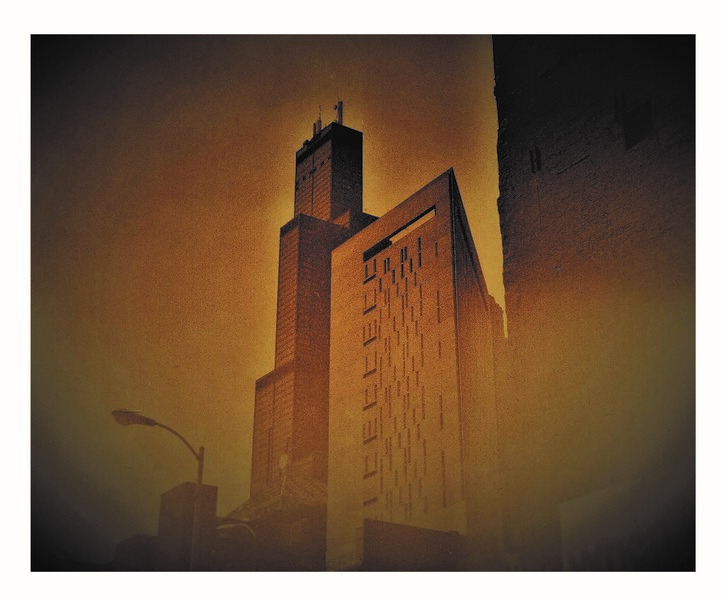 As we got some nice feedback upon the excerpt from Michael Tau's book we published and the interview we did with him, we figured we could do something like that again every once in a while when something interesting is being thrown our way. So, fast forward to today - we got something for you: An excerpt from Joe Carducci's latest book called Chicago Stories containing four plays and an introduction.
Before anybody asks "Joe, who…?" - I give you three letters: S S T ! Yes, Joe was with SST Records at its beginnings and he knows a heck of a lot of stuff about the label and about Chicago as a city as he grew up in Napperville a city on the outskirts of Chicago's metropolitan area. The city and the area became a focal point for his writing and his upbringing. Later on, he got involved with Greg Ginn and SST and was with them for several years in the early 80s and somehow the no-bullshit-attitude of some of the SST bands also seems to reflect in his writing.
The following is his introduction to Chicago Stories, in which his detectives have to work on cases in or around Chicago. Here is what he has to say about their writing and he also gives us a short insight into his life and biography. Enjoy it and be sure - the plays themselves are a read as enjoyable as this introduction full of pop and underground references!


"Bullethead" is the oldest piece in this third collection of my screenplays. It was inspired by two things: It occurred to me after the 1992 Rodney King riots that it might be time for an update of Dirty Harry (1971) which dated from an earlier nadir in the reputation of cops, at least in terms of polite society. And secondly, Henry Rollins had just started acting in Hollywood productions with The Chase (1994) so then I thought I'll just write it for Henry and then I won't have Inspector Harry Callahan crowding my imagination as I wrote it.
Back when Henry was in Black Flag and I was at SST Records (1981-86) we and assorted comrades were often at the family Ginn's house in Hermosa Beach. Guitarist Greg and artist Raymond were two of Regis and Oie's five kids and the parents' interest in their sons' arts often spilled over into interest in us, their minions. Oie might smile her patient Christian Science smile and ask in her Estonian accent, "Do you think Greg has any talent?" She knew, of course, but she missed the earlier Black Flag style of songs like "Jealous Again" and "Nervous Breakdown". Her relations in the old country were then still trapped inside the Soviet Union but they were rumored to be full of classical music performers. Another time Mrs. Ginn asked me, "What will become of our Henry after Black Flag?" I told her that I thought he would star in action films like Charles Bronson had done once he was in his fifties.
But there wasn't to be a new Dirty Harry, some smash hit that all right-thinking film critics could denounce as fascist. That had been a Harry and Rita Fink script that John Milius was hired to rewrite when Frank Sinatra was attached. Sinatra dropped out and everyone else turned it down until it's said that Paul Newman suggested it would be right for Clint Eastwood who agreed but went back to the original script and had Dean Reisner adapt it. He was a Hollywood lifer since the 1920s and an Eastwood regular since Coogan's Bluff (1968). But Hollywood was no longer working properly. The studios' machinery was popping rods since the 1950s so Dirty Harry was a miracle, and Eastwood's Malpaso company, taking his need for action vehicles and bringing director-mentor Don Siegel's termite m.o. in-house, became the reigning post-studio system model of efficiency. But a model depending on a star allergic to extravagance was a model followed by no-one.
Truthfully my "Bullethead" script was something shy of a miracle circa its 1996 first draft. But over the years I've been able to develop the characters of the cops and druggers and pull nice sub-themes out of their action predicaments within an illustration of the long blue line of law enforcement and the shorter, scribbled red lines of criminal enterprise. Ultimately, "Bullethead" wasn't even styled like Dirty Harry. Before he directed Clint Eastwood in Coogan's Bluff and Dirty Harry, Don Siegel made Madigan (1968) with Richard Widmark and that film actually had more influence on my script's plot. Also from 1968, Bullitt mixed great action and new realism with some obviousness here and there; I tried to give my lead some of the private life that Madigan and Bullitt had that Harry did not. The cop is a public servant, but the only one that its public sector brotherhood will routinely throw under the bus when the heat comes down. The dirty, dangerous job of policing earns this unionized bloodbrotherhood contempt more often than gratitude. It's an impossible job and Hollywood in its right mind understands cops are the natural hero in any story tied to the classical dramatic tradition, meaning any story that isn't for children, whether young or old-enough-to-know-better.
"City Final" occurred to me when I began spending more time back in the Chicago area to be with family. Reading the papers and watching the news during the period of Kim Foxx-Jussie Smollett-Lori Lightfoot-Michael Madigan-J.B. Pritzker-Antifa-Black Lives Matter-et. al., I found a way to dramatize how key this impossible job is when the city polity itself is tempted by the zeitgeist to cease backing its Department - THE mortal sin of urban governance. I recall Mike Royko explaining to some mere reporter that while Richard J. Daley was vulnerable to challenge by 1968, after the national Democrats and the newsmedia and youth culture came down on his forehead for backing his Department during and after the '68 Democratic Convention he became bulletproof in the city of Chicago. Likewise regarding Cook County Sheriff Richard Elrod who limped around Chicago in any office he wanted to run for until his death in 2014 after being partially paralyzed while arresting some nogoodnik during the 1969 Days of Rage. Those examples date from when Chicago remained the capital of working class America. After 1970 it lost a million in population and Daley tried to replace lost industrial jobs with service jobs and those produce a different citizen and culture as we Chicagological students have seen.
In and around the old working class or the new service industries there are more clever and imaginatively stupid criminal scams cooked up in Chicago than any wouldbe Shakespeare or Izzi can come up with himself, and the papers, especially the Sun-Times deliver! Recently though that paper's been purchased by the NPR affiliate, WBEZ FM, and turned into a non-profit. So my expectation as a student of mediation is that a new drive for equity in crime coverage will end its coverage of ne'er-do-wells, gangbangers, pimps, chiselers, dealers, street-guns, carjackers, wouldbe mafiosi, et. al. Unfortunately the Tribune lost itself to chain ownership and now can never recover its inner Colonel who it's been living down since… 1968 come to think of it! But my research is done and there are next-gen websites in the city with good crime coverage from surveillance cams and stringers.
These scripts are read by very few producers, agents, managers… so some I write with small, independent budgeting, even self-production God help me, in mind. "Unsolved" is one of these. Its plot involves a retired Chicago detective who is enlisted by a professor of a college course in forensics to look into cold cases provided by the Department. He discovers the cold case was one he was involved with as a rookie patrolman when he'd been shocked to discover that he'd known the victim in high school; he'd become a cop and she and her brother became hippie casualties. It is set in the area of Chicago that filmmaker James Fotopoulos knows well. The story ends in Humboldt County, California and that and the cast ideas pushed the budget beyond our resources so it hasn't been made yet.
The final screenplay in this collection, "Ghost Dance", is set on the upper Mississippi River between Minnesota and Wisconsin where a Hmong community tries to find its footing since losing their country to the Communist Pathet Lao after the end of the Vietnam War. The story begins when a former CIA-trained Hmong fighter is confronted pre-dawn on the first day of hunting season by four American hunters who claim the deer-stand as theirs and are killed when they fail to realize who they are dealing with. A small town detective and an Indian reservation sheriff track the killer with help from the aged CIA trainer of Hmong fighters who is now something of a Godfather to the refugee community.
I've written about Chicago in my film book, Stone Male. I consider it the place where WASP America learned that you could make Americans out of ex-slaves, Slavs, Catholics and sundry others. Such Americans were the human byproduct of all those foundries, butcheries, tanneries, and railroads, warehouses, and ports of Chicago. The city is a great canvas and even as it lost its own film studios (Essanay, Selig, American-Flying "A"…) to Hollywood by 1920, the major motion picture studios used Chicago as the American everycity, especially with the coming of sound in the gangster movies and newspaper talkies. Ex-Chicagoans like Ben Hecht, Charles MacArthur, Rowland Brown, and W.R. Burnett brought with them from that city what Ian Hamilton refers to as the lingo that became "the sonorous, tough-tender, fake momentous cadences of Hollywood itself." (Writers in Hollywood) And Jan Olsson places Chicago's meaning in films even earlier. He reports the early immigrant audience for films circa 1910 "were willing - even eager - to embrace the culture and emblematic vistas indicative of their new country as represented by an imaginary amalgamation of industrial Chicago, Coney Island, and the Wild West." (Los Angeles Before Hollywood)
I hope to begin research for a series charting the history of the rise and fall of Chicago in five features, using historical figures to dramatize somewhat discrete eras of that living canvas. I tell myself I've already done half the research but that's a lie needed to commence the reading. But I know how the five feature series ends. It ends with the loser city's late run of sports championships, the parades downtown for the Bears, the Bulls, the White Sox, the Blackhawks, and finally with the millions of Cub fans in the streets, because, you know, it's the craziest wrong-foot punctuation imaginable! As Thomas Boswell wrote of game 7 in the Washington Post, the Cubs, after staring into the abyss for a century, found unexpectedly, that "the abyss blinked."
I should thank Chicago news media first and foremost in this collection. The papers and channels and stations provided an ambient ticker of all manner of crime and criminals going back to the days of five city dailies when I was a kid. You got hooked into the news even if all you intended to read was the comics and sports sections. When I was eight the President was assassinated and the whole country got a news bath for days - even the kids shows were pre-empted for the news, then Oswald's killing and finally the funeral itself. When I first began to read the papers' front sections in earnest my interest was in the features from overseas. I only later realized how interesting Chicago's local news was.
We got the Tribune in the mornings and Chicago Today as well as the Aurora Beacon in the afternoons. Naperville was a small town then and it only had a weekly paper, the Naperville Sun which wasn't much for crime coverage or me and my brothers might've been labeled a crime wave. But schools took kids down to our paper where we could see the lead ingots lowered into the linotype machine to form the slugs for the paper's layout. It must've been about 1966 when I saw it and it looked like those old guys had to be able to read backwards to slot the pages together properly. My mom had two sisters in Naperville and their mother lived with us too so there was alot of Chicago for us in our little town-not-even-a-suburb yet and if I wasn't visiting cousins to spread our proto-crime wave, I'd be over with the entire family for Christmas or a birthday and I would drop out of the festivities to look at their Chicago papers, the Sun-Times, the Daily News… For two weeks I subbed for a neighbor doing his paper route. That was interesting, seeing the Newspaper Agency in an old house across from the train station. They got the papers delivered by train before anyone else was awake. There were some older guys running things and dozens of boys rolling up the papers for their routes, bagging them, hoisting the full canvas sack onto the handle-bar spurs on their bicycles and then riding off into the dark to throw them on all those nice 19th-century midwestern porches before most any house had a light on inside. I'm sure that was the first time I saw the Southtown Economist, the American and a few other papers too.
We'd go into the city on the train with Grandma to shop at Field's or Carson's, and when quite young we'd go in ourselves by train to Union Station, walk five blocks to take the El up to Wrigley Field. Dad would take us in at night to see the Blackhawks, the Bulls, or the White Sox, and he took us to see the Bears play the College All-Stars once too. Wrigley Field, Comiskey Park, the Chicago Stadium and the old Soldier Field were great buildings and they too plugged you into Chicago history whether you intended it or not. I wish I'd been in the Amphitheater and the Coliseum too but these were torn down before I knew enough to care.
When punk rock was at its most involving in the late 1970s and early 1980s one tended to drop interests such as sports and television. I kept my interest in film by working at the Cinema 21 in Portland and going often to see films at the NW Film Study Center or once I was in Berkeley at the Pacific Film Archive. I had dropped writing when I found I just didn't have enough life experience or story sense to produce a first draft that was in the ballpark of a what might be called a final draft. I continued reading, though gradually the non-fiction required to write fiction took over from my fiction reading. That was always wider and shallower than ideal but I did read alot of Dostoevsky, B. Traven, Anthony Burgess, Cornell Woolrich, Stanislaw Lem, Edward Abbey, and Aldous Huxley once upon a time.
I resumed writing in Los Angeles late in my tenure at SST Records. I don't consider those scripts very good but they were at least out in the ballpark's parking lot. I got back into sports under the influence of Raymond Pettibon, Rick Van Santen, and Kelley Thornton just in time for the upswing in the Chicago teams abilities. The Los Angeles Times ran a good series on the Chicago mob's troubles in Las Vegas and on what was dubbed "Council Wars". That was a national enough story that I began to think I should get back to Chicago and witness the next election when Harold Washington would defend his upset mayoralty against all comers. I got back in town in late 1986 and it was a local news bonanza where even the overgroomed television anchors distinguished themselves. I'm still struck by the image of tall model-like WLS anchorwoman Joan Esposito reporting from the northwest side and towering stork-like over the smiling babushkas gathered at Alderman Roman Pucinski's ward office. The Daley Machine had lost control as early as Jane Byrne's election and its apparats were at war and talking. I was also able to read the Defender every weekday, the Reader every week, watch John Callaway and Bruce DuMont nightly and listen to Lu Palmer on WVON Thursday nights. I added the New York Times and the Wall Street Journal to my intake as well.
While in Chicago I finished my first book, Rock and the Pop Narcotic, wherein I attempted to put my summary thoughts about rock music and its resurrection during the punk era against what forces had worked to keep the music slumbering along in platinumland. I then wrote two scripts for Jim Sikora to direct in Chicago, Bullet on a Wire and Rock & Roll Punk, both of which were valuable and costly lessons.
I wrote "The Winter Hand," a western influenced by the early work on my film book, Stone Male - Requiem for The Living Picture, which I began in 1991. I liked what my research into Wyoming history revealed so I moved there. I was finally focused on writing screenplays and they were now worth reading. I was still working on Stone Male until its publication in 2016, and that gave me a grounding in the history of film, especially action cinema and the American hero as he developed in cinema from the 1910s (G.M. Anderson, Pete Morrison, Tom Mix, Francis Ford, Hoot Gibson, Harry Carey, William S. Hart…) to the 1970s when I would say the seed of that book was planted by critics' reactions to Dirty Harry, Death Wish, and their stars' styles of what was often taken for not-acting.


The book can be ordered today from some of those nasty global companies or via Redoubt Press while the good people in Laramie, Wyoming can get the book directly at Night Heron Books.