The HIRS Collective - We're Still Here
02 Apr 2023 - Thorsten
Screamo | Avantgarde | Punk | Get Better Records | Release date: 24 Mar 2023 | Favorite song: XOXOXOXOXOX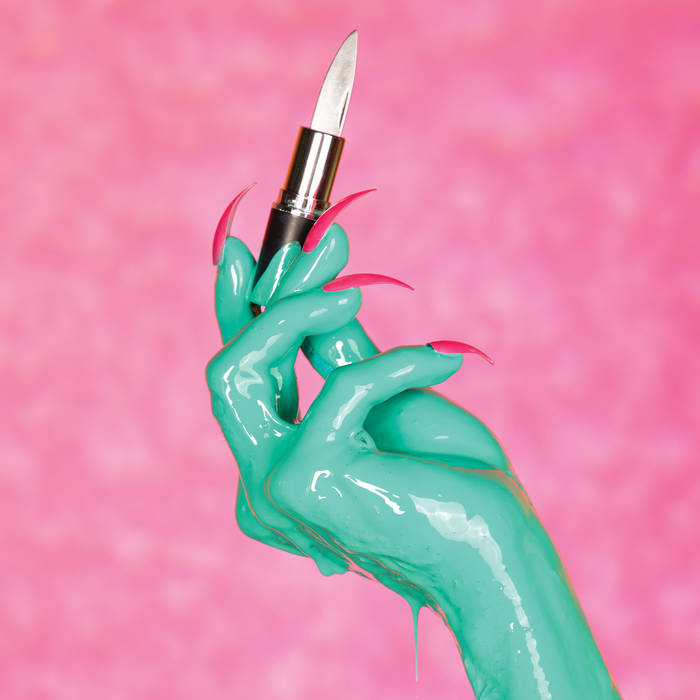 Beware when reading this review. You might encounter dizziness, mindblown-ness, fearfulness, and some serious confusion-ness. Why? First of all, because of the sheer amount of guests that The HIRS Collective has gathered for their latest full length We're Still Here and secondly because of the overpowering beauty and force of their music. Let's kick the former off with: The Body, Garbage, Converge.
Lifetime, Melt-Banana, Swing Kids.* There is so much noise on this record that one might dismiss it as simple noise-core after listening to the first three tracks – or 6:20 minutes into the record, if you want to know about track lengths. Many of these tracks are so fast and brutal that Old School Hardcore could be a more useful comparison were it not for the small, short moments of doom-infused breathers, in the opening track that is the part when you really notice that it is the Shirley Manson singing. Sometimes these short "breaks" can also be filled with a tidbit of Arabian-sounding flutes (or wind instruments in general) which sound as if Zorn has found a love for the Middle East he hasn't displayed in full detail. Or we get some kind of deep bass Trap to make it even more difficult to say what kind of music this is.
Thou, Soul Glo, Touché Amoré. Maybe confused little me has to step back a moment and try to become clearer. This is HARDCORE. Hardcore in all its ideas, ethics and morals. The HIRS Collective takes their name to the maximum on this record and collects 35 guest spots – two for each track basically, with Jessica Joy Mills (from grp.txt) being the only one with two features and Melt-Banana (!!!) having the honor of being the sole feature on another. So yes, this is a true collective, maybe the longest I have seen since The Ocean (Collective)'s long list for Precambrian - by the way Nate Newton is on both records! And the people they gathered represent that idea as well – some are very well-known vocalists and some are involved because they are brilliant but maybe not so famous, so they might be pushed a bit by this feature. But there is more hardcore to the HIRS collective – they also stand for the original idea of Hardcore Punk: Support the outsiders against the attacks from the jocks, the xenophobes, the misogynists, the conservative f***s, the government, religious fanatics and everyone else who thinks it's cool to treat others like shit just because they don't fit into your numb-witted, narrow-minded, one-brain-celled little box that your ugly ass and wiener call life. Rant-mode-off If you wanna know more, just visit their Bandcamp page for this release!
Propagandhi, Fucked Up, Saosin. Something that might surprise some people is the open-minded attitude when it comes to genres. Yes, it is hard at its core, but it's also open towards other genres, for example beat oriented stuff like the second half of "Judgement Night" (awesome reference which also references The Prodigy's "Diesel Power") featuring Philadelphia grime act GHÖSH, the beats are really great and rambunctious, the rhymes are dense and driven and yet – it's still 100% the HIRS collective! On the other hand there are parts that work like haunting Dreamgazey intros that then turn into nightmares filled with the screams of the lost souls - "You Are Not Alone" featuring Lora Mathis and The Body works exactly like this. And then there are elements of original, chaotic Screamo like the Melt-Banana featuring "XOXOXOXOXOX" where it becomes clear how much Post-Punk and Noise could have been found at the bottom of the Noise-Core-well.
Full of Hell, My Chemical Romance, Nø Man. We're Still Here is some kind of comeback record for the HIRS collective – and it comes with the idea of uniting against those who try to single out those they deem "unworthy". By connecting to one unified front, the collective stands for its political ideas as well as the idea of supporting every single one of them this way. The music is surely hardcore to the max, with several bouncy and many noisey elements, it goes the whole distance between announcement and attitude on the one and result and respect on the other side. You only buy one Hardcore each year and still search for a replacement of that last Plebeian Grandstand record? Take this one.
(each paragraph will start with three bands of the people involved in this recording)