STAHV - Simple Mercies
26 Jan 2023 - Thorsten
Alternative Rock | self-released | Release date: 03 Feb 2023 | Favorite song: Snake Key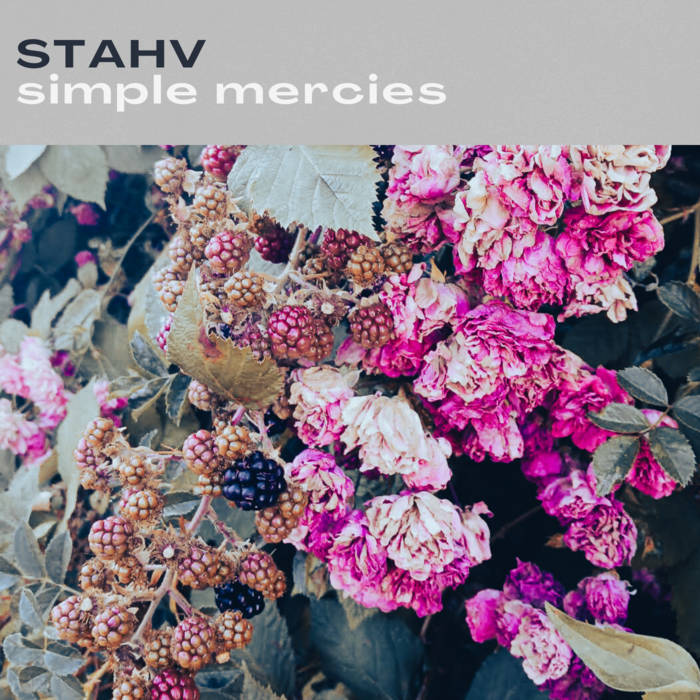 Okay, let's do something different this time. I will not talk about the band at all, so you have to figure those things out by looking at the headline and picture next to these opening lines. Let's only talk about the six songs on this EP and let them initiate my talking. Because hey, that's what happened in the record stores of old as well, right?
We all remember the times, when we went to record stores for some crate digging and then suddenly, the guy behind the counter plays some really cool stuff, unknown to us, right? Our feet begin to tap along to be beat, our heads nod to the melodies and all of a sudden, we run to the counter to know "Who is that?" And that person will smile back knowingly and show you. That's the feeling that this record also takes me back to. A really good feeling though, too!
The opener "Cold Case" is able to carry its roots on the sleeve and still keep it interesting all through its 3:30 minutes running time. The song is a nice melange of Indie Rock and New Wave with the beats and also partially he vocals delivering a youthful tone, that is then loaded with some riffs that you might find in some of the Indie Rock records of the late 90s, when it was less about being Shoegazey or Noisey but a bit more about melody and hooks and this track surely has both a lot. The somewhat spooky and slightly ominous vocals are a cool middle between the early 80s and the latter Grunge period, as they are pretty clean (throughout the EP) but never boringly simple.
When "Love 4 Nothing" starts, my first point was thinking about that strange tendency of HipHop to abbreviate stuff by using numbers and other symbols to shorten words. However this has nothing to do with it – so don't worry about us turning into Juice magazine. There are some nice, short dissonant tinges on the guitar lines on this really cool, driving, fast-forward song. That pace is also kept up by the beginning of "My Middle Finger" which has a kind of California feeling as it seems to be perfect for driving around, either cruising through one of the big cities like Los Angeles or also heading out on the Pacific Highway 101 from Los Angeles up to San Francisco but not with the top down, but the window of a nice sweaty Lincoln down letting wind mess up one's hair.
"P vs. P" is the first little breather on the record offering some twangy, San Diego-esque guitar parts that would fit both Speedo or Dick Dale. The mid-tempo track is definitely a good choice as a single even the other tracks are a bit darker than this one. Nevertheless, a good song is a good song and as such also a good single inevitably! After that "Snake Key" picks up the pace a bit again – but only on the outside because there is some really nice, gloomy synth-line in the background, so we might even recognize a bit of a Gothic attitude on this track. Because of these two tracks it is also a bit easier to pinpoint this whole EP as Doomgaze between that term seems to fit all the angles of this record really well. Doomgaze with that bit of New Wave – and then you know what to expect!
The bluesy last track with its trippy beat and vast synth-passages might seem to contradict that last sentence, however, I think that they open, slightly echo-laden vocals connect it to that Doomgaze-tag nicely. So, this is a really nice, roughly 20 minutes-long EP which will surely be a nice starting point for people to dig deeper into the works of… oh wait, didn't wanna mention the name, because y'all ain't stupid. So, you know where to look for it, when it will be released next Friday, February 3rd! Enjoy it as much as I did. Good one, Ari!