Interview with Darkher
22 Jun 2022 - Knut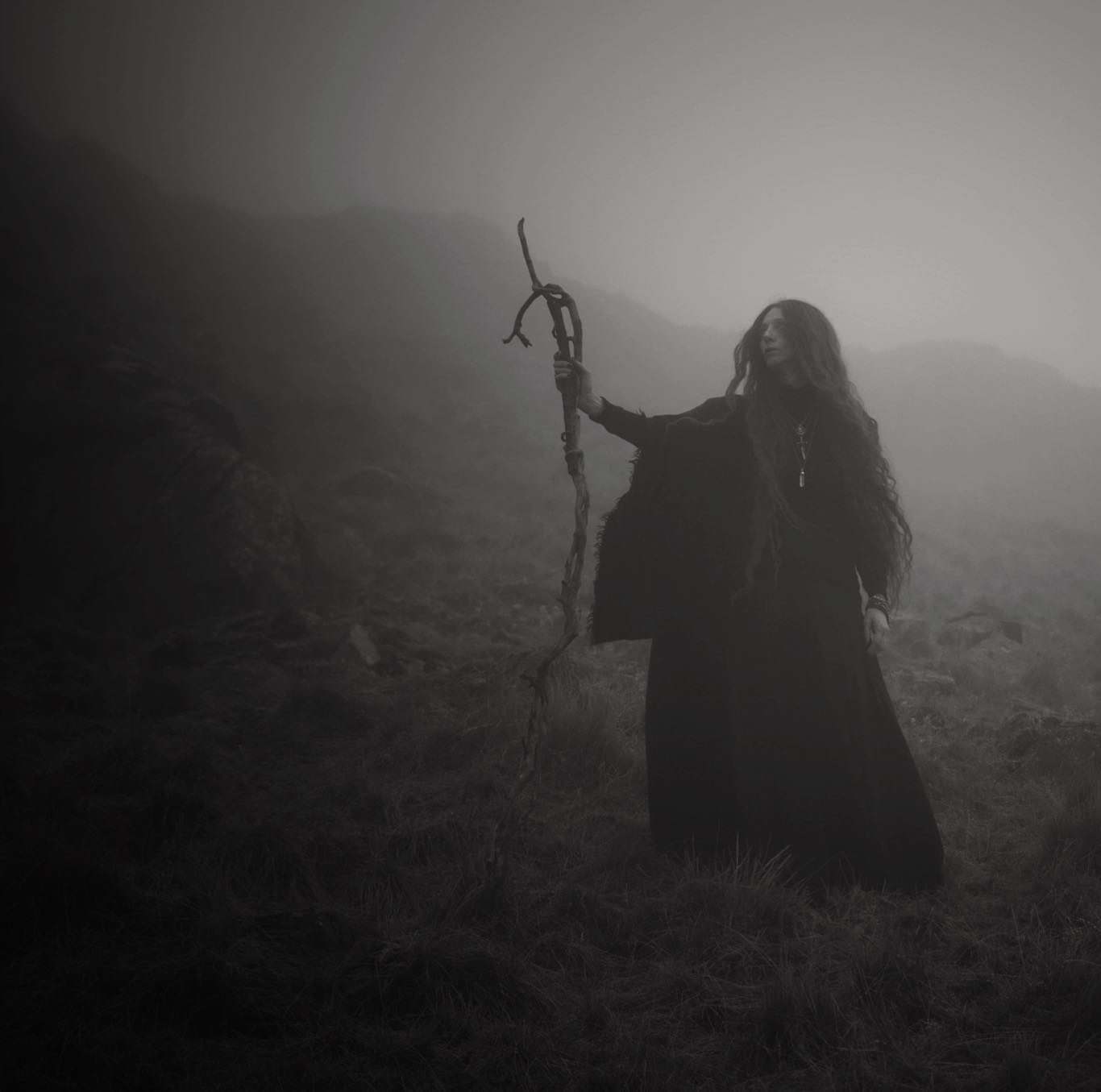 When listening to Darkher and her mysterious music, there is always that sense of closing in on a rocky mountainside in the Highlands and the stone is brimming bright red with light and sound coming from it and pulling us closer with that gentle mesmerizing touch of bewitched excitement. Not wanting to know why the stone is pulsating but still having to know. The difference between wish and urge, with the latter being the one thing you can't control. Maybe the mastermind behind Darkher can help us clue up why we cannot keep from it?
So a few weeks ago we released our review of the latest Darkher record The Buried Storm and when Knut got the chance to conduct a Q&A with her, we were more than happy to find out more about her and her music. Enjoy the interview!
Congratulation on your new album and all the deserved good reviews it has gotten, plus entering the official German Album Charts shortly after release. You have really developed how your music comes across to the listener. Listening through your albums is like following you on a continuous narrative. How are your released albums interconnected with each other as you see it?
Thank you for your kind words. I like to approach each album as if it were a book or a film, in that I want it to take the form of something immersive, that can be listened to as a kind of meditation or a journey, to transcend the every day world and escape to another world. This is where music takes me throughout the creative process. I think this is one way that the albums connect with each other.
I just have to ask this, how did you come up with the name for your musical project? It is so impressively simple, creative and visual at the same time.
Thank you. I tried many different variations of words and themes when I was first trying to find a name for the project, In the end this name just came through and I felt it fit the music I had already written for what became the first EP.
Do you think, as a woman you must automatically make "darker" music to get a footing in non-mainstream-music with some doomy aspects?
I don't really think about it like that, I just write what comes through me from my emotions as a way of self expression and that leads me to more poignant themes and chords. The heaviness in the music and the lighter more acoustic parts feel to enhance the emotions when I create.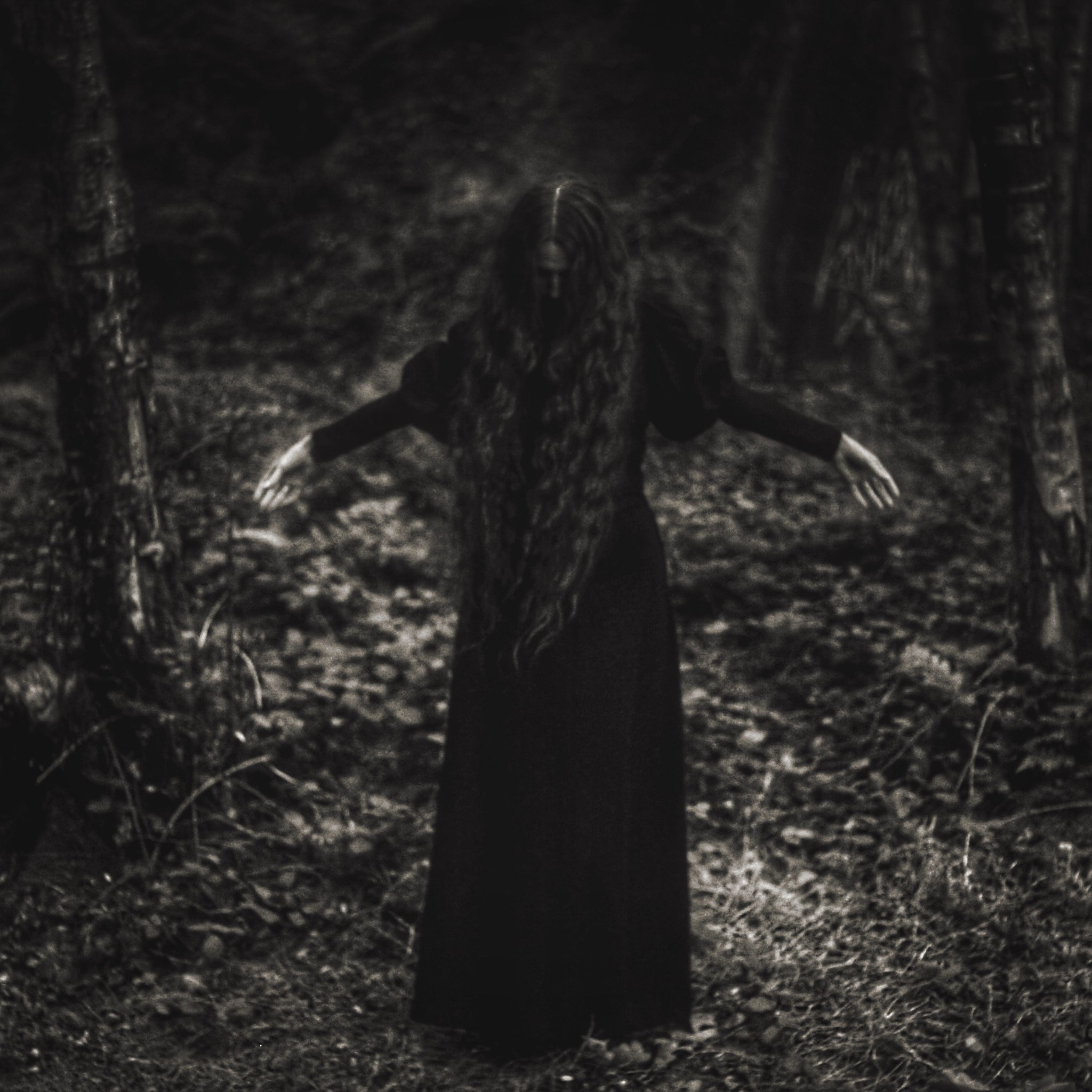 Has the situation for women in the "metal world" in general changed in your opinion over the last, let's say, three decades?
I wouldn't be able to answer that, as I don't follow any particular genre.
How bleak is your perception of this world we live in?
I find the winter in the north of England can be particularly bleak and like many, I struggle with Seasonal Affected Disorder and depression in those times, but this is partly why I choose to create in the darker months, to give me a feeling of connectedness which helps me to embrace it and see the beauty in it rather than to fear it. Creativity is so healing, because it helps me to create another world that I can retreat to.
How must we envision the composition and recording process for your latest album with those expansive tracks?
All my songs begin in the acoustic raw form and by a process of layering. Fueled by inspiration, they become something more interwoven with drama.
You did most of the things for the recording yourself, apart from mastering and you play most of the instruments. Did you change the process because of the pandemic or did the virus-related lockdowns and everything not have much impact on you apart from it probably having been difficult to meet up with the other musicians for rehearsals?
Because I mostly work alone, from the writing through to the recording and mixing, it took some time to make the record. Usually I would do sessions with musicians and record and produce in the session but apart from a couple of earlier recording sessions pre-pandemic, this was all done differently. Once the songs were written and the framework was recorded, guide parts were then sent to the guest musicians for each song and they were recorded remotely and sent to me during periods of lock down.
You have brought in guest musicians on strings for this album, one could say that you have a string section. On the previous albums Melanie Chaplin has participated, but on this album the cellist Arianna Mahsayeh, the Glaswegian-based violinist Lambert Segura and on one song the Swedish cellist Ludvig Swärd (Forndom) are in. What made you decide to bring in these musicians and how did they impact your composing? Did you compose the songs first and then decided to bring them in or did these collaborations develop during the process?
I definitely wanted to explore the string elements more after being so pleased with the results the cello created on the previous releases. All the parts were pre- written and sent to the guest musicians as a guide track. Melanie Chaplin and I did do a couple of sessions face to face on a couple of the earlier song versions and I kept those parts and added layers on top played by the other cellists. Ludvig is a friend of mine and when he mentioned that he played cello, it felt fitting to ask him to play on a track - I also sang backing vocals and harmonies on songs on Forndoms Faþir album, so it was really lovely to be creatively connected in that way. Arianna Mahsayeh approached me at a festival and offered to do some sessions for me and Lambert Segura I contacted as I wanted to add real violin on some of the tracks.
Your lyrics are almost like stand-alone poems which in fact are imaginative even without the music and your vocals. How do you develop these lyrics? Do they come first, along with the compositions or after the music is written?
Thank you. The lyrics usually come after the music in my case. In fact its the part of songwriting that takes me the most time. "Unbound" came through as a complete song when I wrote it, lyrics and melody together with the guitar part but most of the time I do approach the lyric writing as though it were a poem.
Do you have any authors that inspire and motivate you for the music and the lyrics?
I'm not a big reader, but I'm inspired by the words of poets such as Percy Bysshe Shelley, Christina Rossetti and William Blake among others as I prefer the use of the older language and the feeling they evoke from another time.
It is clear that you are inspired by nature and wideopen landscapes, by the ocean and the clouds in the sky. How must we imagine the process of integration this inspiration into your music?
I feel that the artwork plays a very intrinsic role in what I create and has become an extension of the music. It fits the mood the of the songs and captures the spirit of what I see in my natural landscape and those elements that inspire me to write.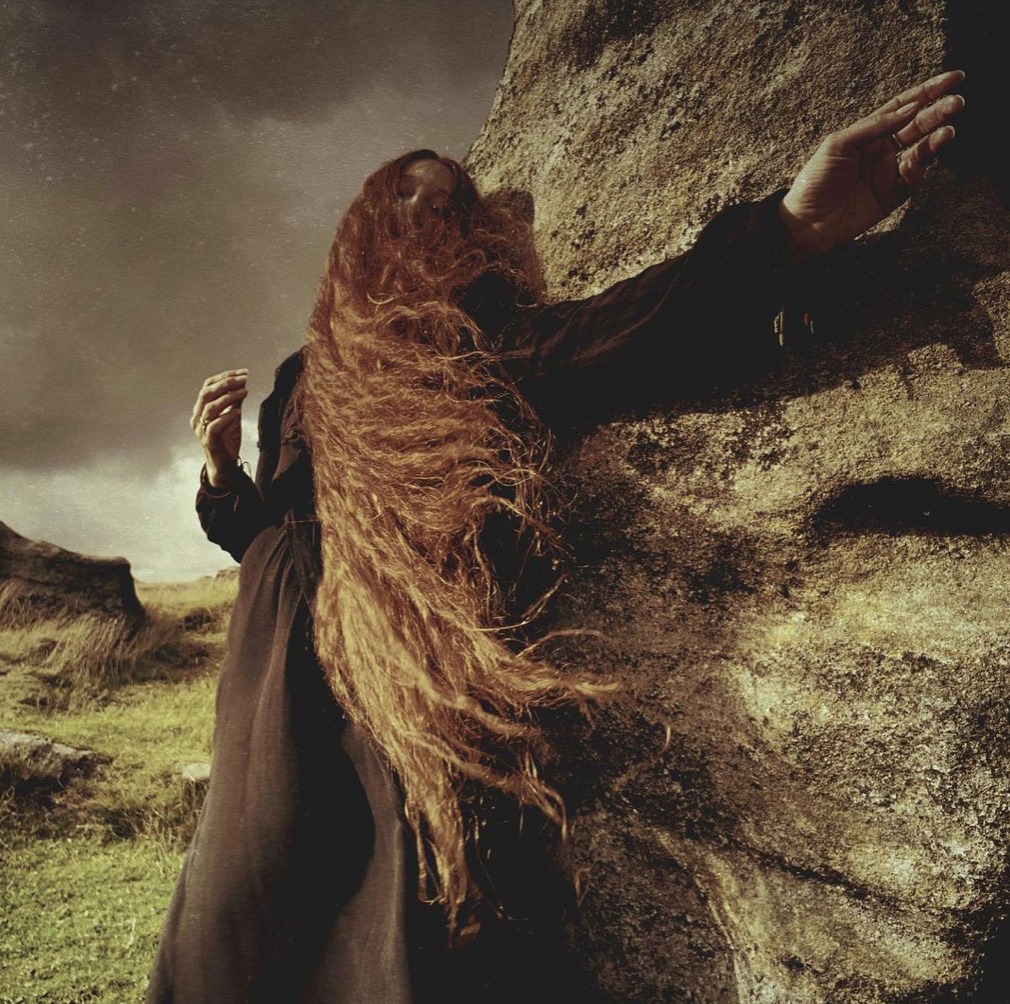 As writers we (are expected to) categorize music to guide our readers (and also ourselves) as do labels and record shops. With this new release, I for one do not think it is right to categorize it as Doom Metal, although there are clear connections to that kind of music. Where within the musical spectrum of dark, ambient, doom related music would you place your music?
I don't really define it as anything in particular. I know it has elements which connect it to certain genres but I wouldn´t want to feel restricted by that creatively, so I don't think about what the end result becomes. I think of creativity as a melting pot of all of that inspires and evokes mood and expresses emotion and people draw their own references to what that might be categorized as.
You have cited your father, who also played music, as very inspirational for your musical career. You released a full-length and an EP with your band The Steals that were clearly based in acoustic folk music, or dark folk, but also with some heavy guitar playing on the track "Golden" that might have given a clue to where you were heading. But what music inspired you to first make folk music and then go into the doom related music and for the time being ending up with your last album The Buried Storm?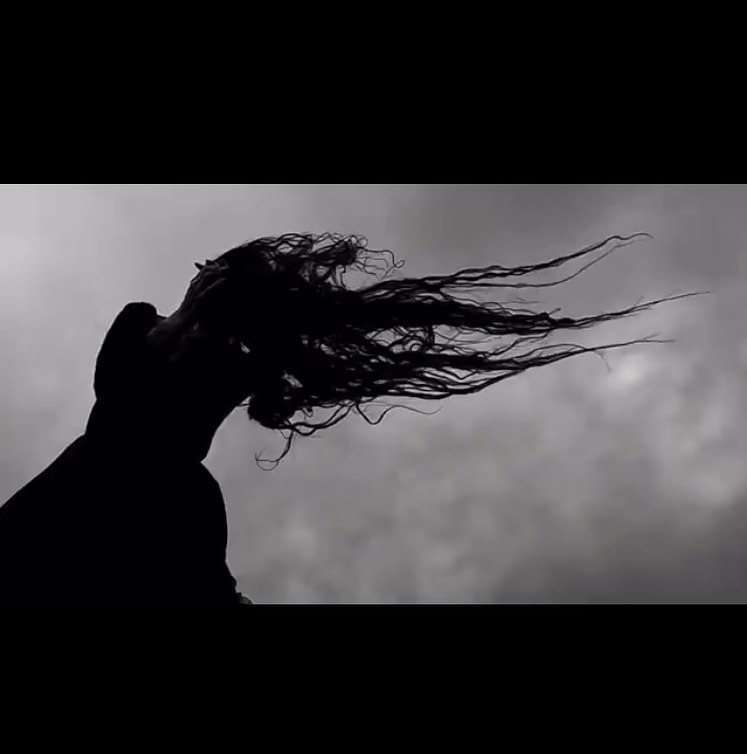 I love elements of acoustic guitar and also the depth and tones of heavier guitars and it´s this contrast that inspires me within the production. With my previous band I didn´t play the guitar very much at all but I had the pleasure of working with some amazing and experimental guitarists - of which one - Daniel Land, who played some live shows with me at that time - has guested on "Fear Not, My King" on The Buried Storm.
What music did you listen to growing up and in your formative years as a musician?
When I was very young I listened to Kate Bush and Joni Mitchell then I disovered bands like Cocteau Twins, Death Cult, Siouxsie and the Banshees, Sisters of Mercy.
Your vocals are very recognizable and strong, but at the same time ethereal and so well controlled. It is in fact an instrument in itself as it hovers through and over the music. It fits so well with the contemplative melancholy I find in your music. Do you have education as a singer to find out how to use your voice or is it autodidactical?
Thank you , that´s very kind to say. I am self-taught as a singer, I just learned from using the voice and expanding my range by doing layers of harmonies under the lead vocals.
It is obvious that you have carefully worked on the visuals surrounding the albums you release and it fits so well. Apart from the EP, The Kingdom Field, you have worked with the photographer Kathryn Pogue. What are your shared visions for the visuals both in photos, covers and videos? Do you lay the groundwork or is it a collaboration to find the perfect expression as you do?
Kathryn has been such a gift to find, we met by chance ten years ago and she offered to work with me on Photography and Video, as she was a very young photography student. This led to quite a number of collaborations. With the photography I have a clear vision of what I want and do a lot of the directing on a shoot, but Kathryn has a great eye for composition. I then take the images, either pictures or video footage and I edit them. With filming video, Kathryn is really amazing at capturing what she knows I will love, not only the shots but some really interesting B-roll, so I feel we have both grown throughout the creative process. We shot the video for "Where the Devil Waits" together, but the videos for "Loves Sudden Death" and "Lowly Weep" I didn´t have anyone to collaborate with so I had to venture out alone and do the entire videos by myself.
Is there anything kind of staging of your music that you have as a sort of vision for Darkher in, let´s say, 2026?
I don't think that far ahead, I try to stay as much in the moment as possible.
Synths are an important part of your music and are very well intertwined with both the guitar work and the strings on this new album. As a follower of the German electronic giants Tangerine Dream and Klaus Schulze who also used the cello on many album (and will do that on his next), I wonder if you are inspired in some way by the music of the 70s? Krautrock I particular?
There are actually no synths on the album, the sounds are all created on the guitar through various effects pedals, I also played some cello notes myself through a long delay and reverb to create the drones and used e-bow on the guitar. Usually I find the recording process quite tense, but I actually love that element within the creative process of recording, when creating guitar atmosphere it becomes very inspired and exciting.
So, here is our infamous quick round of questions, hope you can answer them:
Analog or digital? Both - for different things

Touring or recording? Recording, only because travelling makes me anxious.

Vinyl or streaming? Vinyl

Dunk!Festival or Roadburn? Roadburn, I haven´t played Dunk!Festival so can't compare.

Collaboration with Hildur Guðnadóttir or Lisa Gerrard? Lisa Gerrard

Mrs. Dalloway by Virginia Woolf or Wuthering Heights by Charlotte Brontë? Wuthering Heights

Death Metal or Black Metal? Black Metal

The moors, the hills, the woods or the mountains? Anywhere that has them all.

The autumn or the winter? Autumn

Thank you for taking the time to answer these questions! We hope you enjoyed them as well.
All the best
[Photo credit: Title picture by Forndom, edited by Darkher]