Dimwind/Breaths - Seasons (Split EP)
15 Apr 2022 - Knut
Trepanation Recordings | Release date: 15 Apr 2022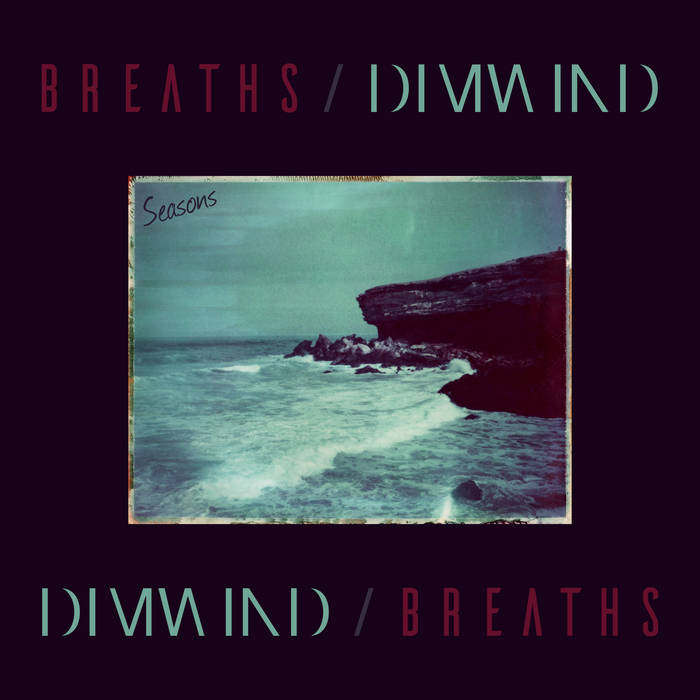 This split brings together two bands from each side of the North Atlantic Ocean, Dimwind from Gøteborg, Sweden and Breaths from Richmond, Virginia, US. Two bands with different approaches to music as they are from different genres, but at the same time two bands that through their original take on their original genres make a captive and emotive aura around the music. As with the Sâver/Psychonaut split last year, it is a perfect match.
The EP lasts about thirty minutes and the time is equally split between the bands. First out is Dimwind, a two-piece band that astonished the underground Post Metal world with their debut release last year. They call their track "Windows Passed" and it starts very foreboding as a sampled male voice tell us that the time for saving the environment might have passed. This might be why the music on this track has an aura of urgency and aggressiveness.
The drums and bass hammering fast forward with an undertow of melodies by the never resting guitar. At the four-minute-mark there is an increase in pace and synths join the sonics as the drums go even faster through the massive music accompanied by a grooving bass. A melodic theme emerges. The massive sonics loosen a bit before changing to chugging and intense guitar ends the first section of this track. It is followed by a female sampled voice talking indistinct with reflective sadness. She is embraced by synths before the track´s next section starts.
Now the melodic theme becomes clearer as the impressive and vibrant drums and guitars build a massive soundscape. The guitars are swirling above and below the drumming turning into chugging mode. At the 11.30 mark an earworm of a melody is introduced. It works just like the melody on Altar of Plague´s track "Gentian Truth", a melody so catchy that you think you must have heard it before - a melody that serves as an earworm for days. But of course, you have not heard it before, they are just that good at writing these captive musical themes. We are close to the end of the track and all the instruments push the melody ahead of them before it all fades away with reflective sound effects. It is a bit dizzying what they have managed to put into a fifteen minutes Post Metal track. And impressive of course.
The second track by Breaths, "When Soft Voices Die", throws screaming vocals, blast drums and muffled and dense guitars at you. I must admit I did not know about Breaths before this split. And I presumed in the first couple of minutes I was in for a dense, airless, blast beat-driven lo-fi dull Black Metal track. Never have I been so wrong! When the music opened up I began realizing that this was something completely different and an astonishing piece of Doom-/Blackgaze with Dark Wave and Noise thrown in between other genres. I ran to the store to check out the band and saw they have released one album earlier this year, one in 2021 and some singles. Ok, I did not run to the store, I clicked over to Bandcamp and updated my collection with Breaths ;-)
So, as I said, the dense music kind of dissolves into a wide soundscape that opens up and captures you. Breaths is a one-man band and the multi-talented musician behind it is Jason Roberts and on this track, he is joined by vocalist Chad Kapper (Frontierer). Had I known Breaths before I would have known that this was going to be a captive and beautiful track rooted in Blackgaze, but reaching far beyond that when the track opens wide up to a multitude of adjacent genres to create a unique piece of music.
Throughout the track there is a dark foreboding pull, no matter how light the music becomes. It is made by bass, drums and guitar and almost dipping into Noise. But glimmering through this and lifting it to soaring sonics are an ubiquitously beautiful and calming synth. Around the 4.40 time-mark the dense guitar fades away to open up wide sonics with synths and a light soaring beautiful voice accompanied by dark and restless drums and bass. An enamouring melody from the bass appears while the sonics turn into Dark Wave and floats slowly forward with everchanging light vocals, the music is almost transparent. The comfortable sonics suddenly come to an end and Doomgaze with the screaming hardcore vocals is back. It is like the vocals are dragging the slow-paced music forward. The captive melody from the bass comes back to follow us towards the foreboding and glooming end when the air slowly is pumped out of the poisoned soundscape.
The two bands approach the theme of disquiet illustrated by the cover photo by Christian Hang´s from the photo series Mare. Dimwind leaves you with a feeling of determent urgency, while Breaths leaves you with a feeling of indignant sadness.