Interview with Colin H. Van Eeckhout (Absent in Body)
29 Jun 2022 - Simon
Absent in Body is a superb group of musicians who are all more than famous for their respective main bands - let's do a little roll-call here: Neurosis, The Cavalera Conspiracy, Amenra. Scott Kelly, Iggor Cavalera, Mathieu Vandekerckhove and Colin H. van Eeckhout. The band released their latest record, Plague God back in late March so it was just about time we did an interview with them!
Colin (or CHVE) is a fascinating person who gives his all for his family, his "church" and his musical projects - one may find it difficult to find out where the second ends and the third begins, but as he is always open to talking to people and very generous with his time, we are happy to having had a chance to interview him about Absent in Body, their record and what it all means. Enjoy the interview!
How are you feeling now that the Absent in Body album Plague God has been released?
Proud mostly, about being a part of this project. And very happy about how it has been received by the audience/listeners. It topped all of our expectations really. Relapse did a great job supporting us on getting this out there.
What are your thoughts on the reactions to it so far?
I was pretty certain about it being a good record. At least it was for me, or us. But it's never certain that others will agree on it. So it was nice to see that most people shared our enthusiasm about Plague God. I am humbled and thankful that people still can appreciate what we make or come up with even after 25+ years. We consider us to be very lucky.
How did the group Absent in Body come into existence?
Mathieu and Scott were scheduled to each do a side op a split record on Hypertension records from Belgium. Mathieu came to a show in Lille France, where me and Scott had to play solo. And it was there that the idea was formed to do something together. I was asked to do vocals and we took our very first band pictures there together. Our first EP was released shortly after in 2017.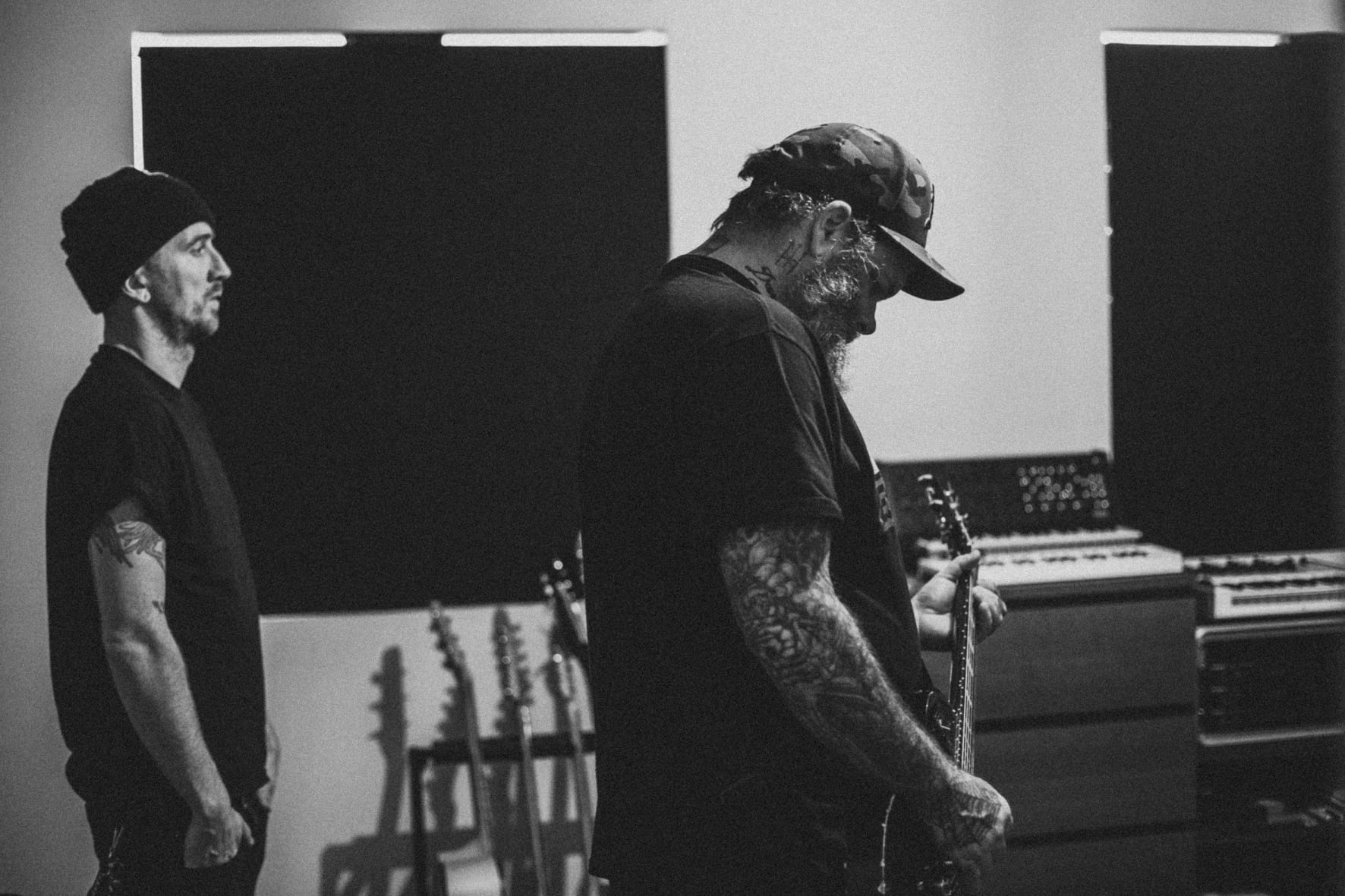 May we assume correctly that the connection with Scott came during the tour with Neurosis and Converge back in the day? How did Iggor come into play?
We have toured with Neurosis years before the Neurosis/Converge tours. I met Scott through a radio show he used to have on KMBT radio. Around 2010 presumably. When he was touring with Blood and Time we actually met.
Iggor came in the picture towards the end of the Plague God writing process. We have a lot of common friends and He and Scott have known each other since forever. Iggor spends a lot of time in Ghent (where I live) and we ran into each other from time to time - as the album was forming itself, I suddenly felt the urge to ask Iggor to join, as it felt like the right and also most interesting thing to do. To balance the electronics out with an analog drum. And his addition to the group as a human, also made this cooperation more worth while. His kind heart was warmly welcomed.
The band name is a highly intriguing one – what does it mean to you?
Scott came forth with "Absent in Body" as it was a means to sketch different aspects to the band.
We are by far musicians whom look for something more in music than musicality or melody. It is a form of storytelling where we try to tap into something untouchable. Unexplainable. The thing that touches your soul. It speaks to you from a different place. "Does" something to you, right?
That's where the being "absent in body" comes in play. You sign out and surrender to what is presented to you in the moment. And fully commit to it.
On the other hand it was meant to emphasize our absence to one another, being located so "far away" from each other. We were absent in body but present in mind.
Quickly one starts to think about people who are dealing with very diverse problems all related to the connection between body and mind. These problems might be schizophrenia, personality disorder but also others like gender-body-misconnections or bulimia. Is there something like that when thinking about the band name to you?
Definitely, but I will not go into detail here. As it is very personal. Not everything is meant to be shared.
On the other hand, it might also be connected to ritualistic events during which one might aim for an absence of rational control over one's body, like some of the water rituals in South America. Is that also an "absence in body" for you?
Also, that's what we tried to portray with the "Half Rising Man" video. "Surrendering" can be a very humbling experience. To trust. It is not evident these days. Ritual is important to all of us I am sure, and for Absent in Body and my other band, and its importance definitely a big part of the story we tell.
Plague God - is that a reflection of the pandemic or were these songs already conceived way before the 2020 lockdowns?
The album was written and recorded between 2017 - 2021. Overlooking the world we all were drawn into the hopeless nature of most news reports that were shot at us. It has been an extremely tumultuous period of time in our lives. No matter what continent you come from. We are all absorbing that energy intensively and it colored our daily lives.
The pandemic only persuaded us to finish the album, the time was right and signaled us to get it out there. The pandemic isn't the plague we are talking about, it is humanity that is the plague.
What is the overarching topic behind Plague God?
The absence of hope. Succumbing to darkness. The animal, that could be Nature, driven into its corner finally shifts into a never ending attack, that this album is.
Where there any specific influences at play on this album?
I have no idea really. Certainly, but it's hard to say what. Or who. I'm listening to a lot of hiphop lately. I am sure it influenced my phrasing. Godflesh maybe, or old EBM and industrial for Mathieu.
Did you and the other band members put any restrictions on what the album should sound like stylistically?
None. We all agreed on the fact that we wanted to create a contemporary beast. That was the beauty of the whole thing. That there were none. No expectations no restrictions. Utter freedom and the will to create something that could potentially last.
How did the artwork for the album come about?

As always I wanted the aesthetics of the album to follow the sounds. So the latter needed to be there, before we could move on. Sculptor Dolen Carag helped me to visualize that "beast" I referred to before. We aimed to create the skulls/skeleton and remains of a species that felt familiar but yet were unknown. The album is a confrontational journey inward. And that's what you have with the artwork as well.
Did the creature outlive us? Is it coming to get us? Questions arise.
Did the music influence the artwork or did the artwork influence the music?
The music influenced the birth of the artwork to a certain degree. I gave the music time to tell me its story.
Have you and the other discussed playing the album live? I'm guessing this would be a logistical nightmare due to the people involved and time constraints.
When we got near to completion, we realized what we had created and some of us uttered the possibility of playing a small amount of shows with Absent in Body. But we quickly realized that the one thing that made this so attractive and inspiring was the freedom, and the absence of obligations. The utter empty canvas.
It all changed with the announcement of the album, expectations and obligations popped up.
Playing live would oblige us to rehearse a lot, and so forth. What indeed would make everything way more time consuming.
If you could curate your own one-day festival, who would we see on the lineup?
Probably friends worldwide, so I'd have a good weekend reunion. We've missed bumping into each other from time to time the last years.
What is the next live show you are looking forward to going to see?
I don't go to shows quite often.
What has been the best musical advice you've ever been given, and who gave it?
Persevere. And believe in your vision.
Last regular question, what can we expect next from Absent in Body?
Who knows what the future holds :)
We are working on several releases..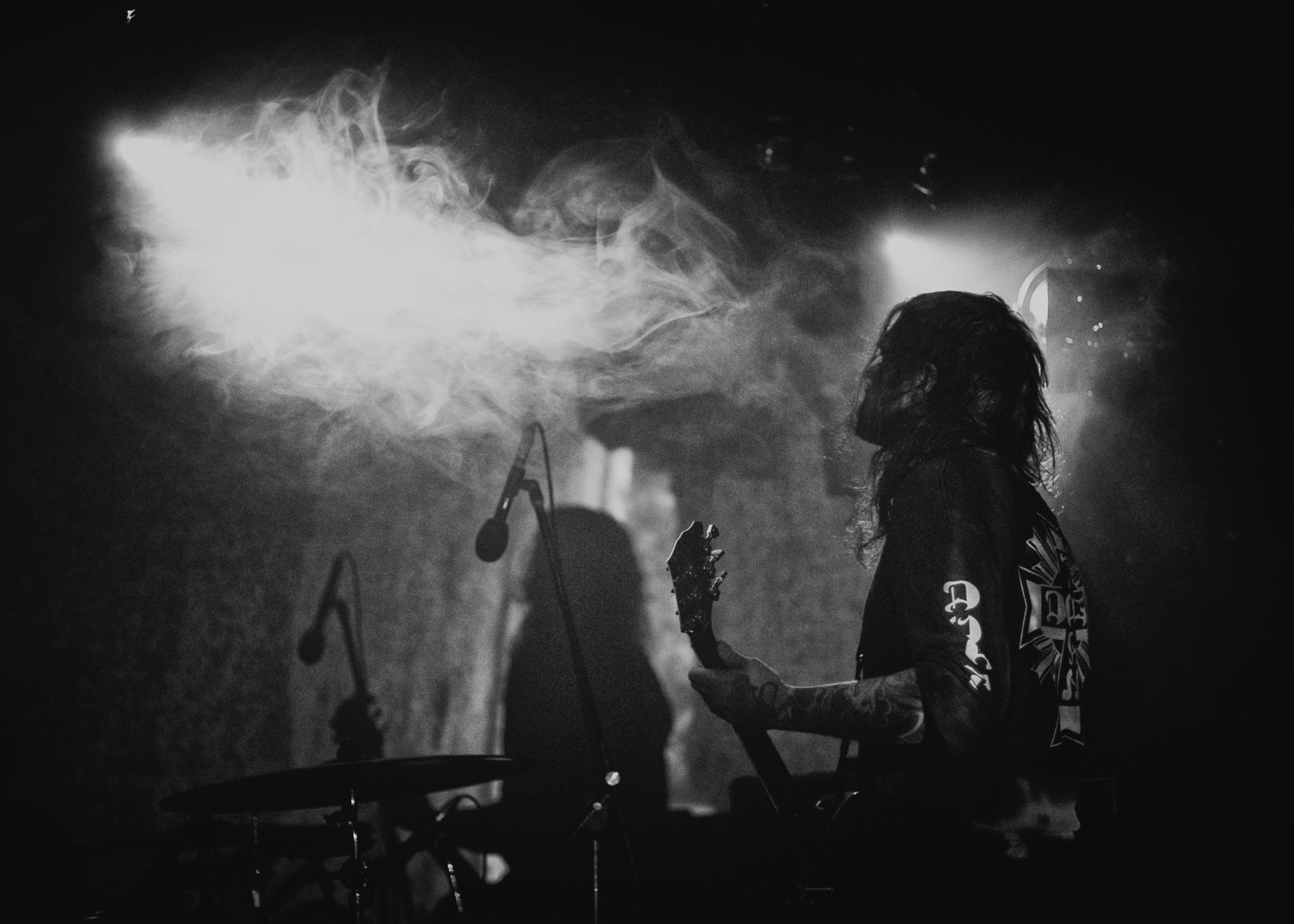 Now onto our quickfire round Big arena or intimate club? Intimate club.

Analogue or digital? Digital.

Chaos AD or Roots? Chaos AD.

Through Silver in Blood or Souls At Zero? Through Silver in Blood.

Ghent or Bruxelles Ghent.

Doom or Folk? Folk.

Touring or Writing/Recording? Writing.

All the best.
[Photo credits: title picture taken from Fragmente-Deutschland.com, studio picture by Jeroen Mylle]