WherePostRockDwells - Monthly Roundup (April)
07 May 2021 - Supratik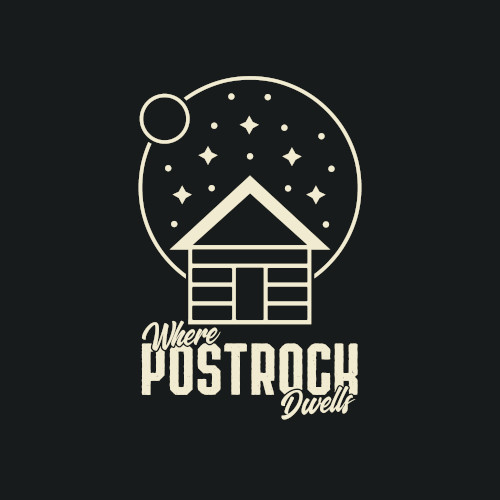 Here is the monthly roundup provided by none other than Supratik Sartak, the founder and mastermind behind the world's best YouTube-Channel for anything "Post"!
BLACKSHAPE - S/T (Post-Mathcore, Post-Metal)
I've been on a quest to discover more artists that like to get creative with their approach to post-music this year and this Salt Lake City, Utah based instrumental Post-Mathcore group (more like Post-Whatever) certainly caught my attention with their ingenious genre tag. Their debut self-titled album swept the rug off my feet from the get-go. It's a concept album that is a continuous loop (an impressive concept) and the lack of coherent song titles removes all context for the listener. It works quite well as my imagination takes me places while surfing through the peaks and valleys of such a dynamic and creative record. The frenetic, mathy riffs are omnipresent throughout the record but it's the occasional bouts of psychedelic and hard hitting post-metal that caught me by surprise and shows the extent of Blackshape's creativity with composition and arrangements. The penultimate track, "ITIITIATIIHYLIHYL", might be quite the tongue twister but don't let that hold you back. The surprise ethereal vocals towards the second half of the track are perhaps the biggest highlight of an album that is packed with memorable moments.
---
Hiatus - Distancer (Electronica, Lo-Fi, World Music)
There have been some truly amazing discoveries for me this year but Hiatus takes the spotlight as perhaps my best discovery of the year so far. Hiatus is the solo-project of British-Iranian composer Cyrus Shahrad who has made quite a name for himself in the underground electronica scene and Distancer might be his crowning jewel. Every single track on this record has its own character and yet the overall flow of the record is incredibly seamless and wholesome. What really sets Distancer apart from most of its contemporaries is the striking balance between lo-fi passages and the marriage between a wide array of instruments, layers and arrangements.
While the virtuosity of Cyrus is to be fawned over, it's the kamancheh (Iranian violin) by Faraz Eshgi Sahraei and vocals by his wife, Malahat, that absolutely steal the show. Whether it's the brooding, dark passages of "Semblance" or the lush, hypnotic soundscapes of "People in Buildings", the kamancheh provides an undeniably elegant charm. Malahat sings on three tracks on the record and her voice is outstanding.
This may not be the lo-fi album that I'd casually put in the background while working. Instead, "Distancer" demands full attention, preferably with a glass of wine or a cup of Irani chai and let my imagination take over.
---
KAUAN - Ice Fleet (Progressive Rock, Post-Rock, Doomgaze)
Kauan are one of the rarer bands who have managed to consistently evolve throughout their career and keep raising the bar to impossible heights with every release. Aside from their impeccable synthesis of a variegated music style, Kauan's real ace up the sleeve is their dexterous narrative capabilities and their 2015 record Sorni Nai is a shining example. Arguably, Sorni Nai has been Kauan's crowning jewel but now Ice Fleet has certainly made a powerful statement that will be resonating within me for many years to come
Mastermind genius Anton Belov has hit the bull's eye yet again with his masterful narration of a little known 1930s event that happened in Northern Russia where a ship carcass was discovered underneath the permafrost. The event is a big mystery and is beautifully corroborated by the gripping and contemplative 7-track epic record. Ice Fleet sees Kauan go back to their Sorni Nai atmospheric heaviness while borrowing a few pages from Kaiho's ambient and neofolk learnings and the result is a mammoth introspective journey through some of the best psychedelic soundscapes I've heard this year. It's a slow burning record that demands patience and concentration but the dividends are quite ineffable. This record is perhaps Kauan's most wholesome record to date that offers plentiful eargasmic moments for fans of metal and post-rock alike.
If you really want to immerse yourself in the narrative, go grab the Ice Fleet vinyl with Tabletop role-playing book. It can't get any cooler than this!
---
Here are our honourable mentions:
BRUIT ≤ - The Machine is burning and now everyone knows it could happen again (Post-Rock, Neoclassical, Experimental)

Godspeed You! Black Emperor - G_d's Pee AT STATE'S END! (Post-Rock, Drone)

where mermaids drown - And the raging winds do blow (Post-Rock)

When Waves Collide - Chasm (Post-Rock, Electronic)

Barren Lands - The Singularity (Post-Rock)

Almøst Silent - III (Ambient, Electronic)

Suffocate for fuck sake - Fyra (Post-Hardcore, Screamo, Post-Rock)

Dans Dans - Zink (Contemporary Jazz, Psychedelic, Experimental)

Høst - Kos (Contemporary Jazz, Post-Rock)

Oreana - Sunrise, Gold (Post-Rock, Post-Metal)

Böira - Cendres ~ Mineral (Post-Rock, Neoclassical, Ambient)

Cultifact - Worshipers (Progressive Metal, Djent, Post-Progressive Rock)